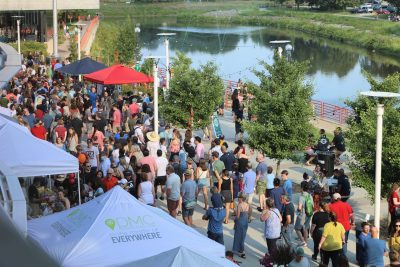 On two separate nights this summer, Mayo Civic Center's Riverfront Plaza was alight with paper lanterns, cheerful reunions, and healthy arrays of international foods and artisanal goods. That vibrance is a hallmark of the Night Market, an event founded by Tiffany Alexandria as a way to bring a bit of Asia to the Med City. The third and final Night Market for 2021 runs from 5 p.m. to 9 p.m. on Saturday, September 18 at the Mayo Civic Center and Rochester Art Center.
The initial Night Market, held in July, wowed organizers with a massive turn-out and sold-out vendors. After fine-tuning the market's format to accommodate crowds, the August Night Market featured a more spacious layout, freer-flowing crowds, and vendors ready for the hungry masses.
"A big success is that the event has a lot of diversity in itself, both vendor-wise and attendee-wise," said Alexandria.
She says August market kept a 70% BIPOC vendor ratio and welcomed a slew of first-time vendors. Some of those first-timers had their fees and licenses paid by sponsorships and fundraising.
"One of the reasons why DMC supported the market is the connection supporting the growing entrepreneurial ecosystem in Rochester and diversifying events in our community," said Jamie Rothe, DMC's Director of Community Engagement and Experience.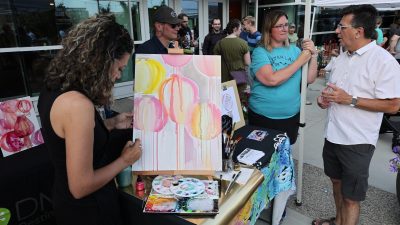 Among the first-time vendors were eggroll virtuoso Vao See, recently-opened restaurant ThaiPop, bakery master Bites by Kara, and African fabric, craft, and jewelry emporium Constant Creations.
The new vendors joined some of July's samplings of local excellence, like Knotty Woodpecker's woodwork, Asian Food Store's dazzling array of snacks, and Hmong Specialty Plants and Herbs' assorted tropical plants and herbs.
The third and final 2021 Night Market will not be the same, but it will be similar, says Alexandria.
The September event will feature performances by rock act Hyooman and traditional Cambodian dances by K.S.K.M.M. The afterparty will be a noodle-centric affair.
"I bought a lot of instant noodles, from all over Asia, all kinds of Asian noodles. And we're just going to hand them out to people with hot water and have people make it," said Alexandira.
As with prior events, Night Market still requests that attendees wear masks and refrain from attending if sick or showing symptoms of COVID-19. For more information, head over to https://nightmarketmn.com/.