Design Team Kick-Off Brings Together Collaborators and Community Partners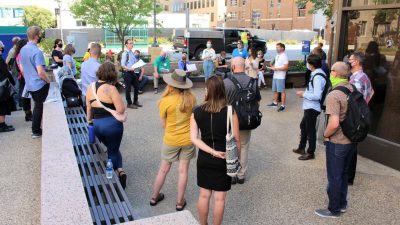 Destination Medical Center staff, local artists, city officials, builders, neighborhood leaders, designers, and media recently met at the north edge of Soldier's Field Park to take a tour of the future. They had assembled to walk along the future Discovery Walk parkway and kick off the project's final design.
Discovery Walk stretches five blocks along 2nd Avenue SW, from historic Soldiers Field to the 2nd Street SW. It's an ambitious mission to bring business, pedestrian life, art, and community into a cohesive whole.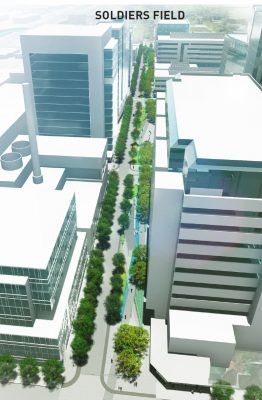 "This will help DMC come alive and for people to really understand what it's meant to be," said Rochester Mayor Kim Norton. "The type of walk it is going to become is really going to be engaging and really draw people in, so I'm very excited about that."
As this important piece of public space affects stakeholders ranging from neighborhood residents to international clientele, from University of Minnesota Rochester students to business innovators, the design team needed to incorporate a diverse spectrum of viewpoints. That's something Patrick Seeb, Director of Economic Development & Placemaking for DMC, feels was achieved.
"This gathering really reflects the kind of design process this project will go through," Seeb said to the diverse crowd before the tour began. "I couldn't be more thrilled by the makeup of this design team."
City of Rochester Project Manager Josh Johnsen told the group that he'd recently come across a document from 2009 that called for a connection between Soldiers Field and downtown. If there was desire for connection back then, there certainly is now. As Amy Garretson, president of the Downtown Neighborhood Association, says, downtown-dwellers are the fastest-growing demographic in the city, and they want greenspace, peace, and calm for food truck burritos or dog walks.
The walk moved on to One Discovery Square, where healthcare and business intersect. Here, Seeb explained the importance of narrowed lanes and pointed out how the patio of One Discovery Square will stretch into what is now street, with seating of various heights to accommodate a range of ages and abilities.
As the tour continued toward 2nd Street SW, Community Co-Designer Wafa Elkhalifa gave her perspective on the need for such a diverse design team: Rochester is a global city, but its public spaces don't always reflect that. For example, some visitors and residents want a place to pray outside while away from their hotel room. Elkhalifa is one of seven community co-designers who are providing insight to designers based on their connections to under-represented community members.
Three Rochester artists who were selected by the design team to help incorporate art into the project also joined the tour to share their expectations for Discovery Walk.
"Just to be a part of this project is very incredible and meaningful to me as I've been raised here in Rochester, said Ayub HajiOmar, one of the artists. "Rochester is a really big part of my life so to be given the opportunity to do something like this is a great responsibility that I don't take lightly."
The tour concluded at the Hilton Building, across the street from the Annenberg Plaza, where a transit hub will provide easy access to the parkway.
Lisa Clarke gave the final address. As she looked around at the diverse assembly, she remarked, "This is a true sign of what success is going to look like."