Well-told stories are one of the most powerful communication tools we can use in business. They help others better understand us, our work, and our purpose. They allow us to differentiate ourselves from our competitors. And, for entrepreneurs, they give us a platform to share our successes and failures – and learn from one another.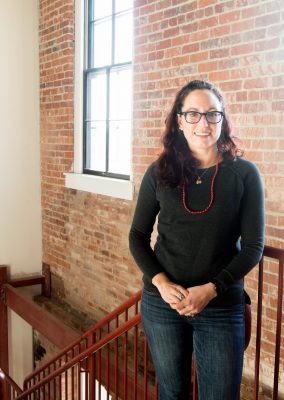 Amanda Leightner is the founder of Rochester Rising, a website dedicated to telling the stories of the rise of entrepreneurship in Rochester. DMC spent some time with Amanda recently to learn more about her passion for sharing the stories of innovators and what advice she would give to someone considering a future in America's City for Health.
1. What path brought you to your current position with Rochester Rising?
It was a long and winding path, that is certain! I came to Rochester in 2007 to pursue a Ph.D. in molecular biology at Mayo Clinic then took a postdoctoral fellowship at the University of Minnesota. During that time, I explored opportunities in science or industry where I could apply my skills outside of the research realm. I had always enjoyed writing and storytelling and knew that communication was my strength as a scientist. (I actually used to publish magazines and sell them to friends and family as a kid!)
While at the U of M, I worked in several unpaid positions to learn more about Minnesota's health tech and biotech startup scene, including volunteering with BioAM, a life science support group in Rochester. I worked with BioAM for about a year to build a digital news segment to tell stories of life science entrepreneurship in Minnesota. I loved the feeling of community and of sharing stories that otherwise would never be heard of people doing risky, innovative things. This work eventually brought me back to Rochester, where I worked with BioAM founder Jamie Sundsbak to launch Rochester Rising, a news site that amplifies the stories of all entrepreneurs in Rochester, Minnesota. I now operate Rochester Rising as a solo entrepreneur. I originally planned to live in Rochester for seven months. I've been here 11 years.
2. What are some of your top priorities in your position for 2018?
Some of my top priorities for this year include telling the stories of even more entrepreneurs in Rochester who would otherwise fly under the radar. I also aim to continue to help develop and expand platforms in the city and surrounding communities for these entrepreneurs to tell their story and seek assistance and guidance. And lastly, I want to continue to help people understand and connect with Rochester's entrepreneurial community and obtain education on how to successfully build a sustainable business.
3. What sets Rochester apart from other cities of its size?
Rochester has a really good handle on work-life balance and in general is a very healthy city, which is important for myself and for entrepreneurs in this city. People here value family life and value walkability and bikeabilty. We have active things to do here all year round, and people get outside and do things, regardless of the weather. I also think people here are generally quite accessible and open. It's relatively easy to meet and connect with other people, especially in the entrepreneurial community, even if you don't know them.
4. Why is the Destination Medical Center initiative so important to the future of Rochester?
The DMC initiative is important because it can provide some assistance and fuel for the momentum that is already taking place within Rochester. The initiative is also getting more people looking at this city and can hopefully help us attract, utilize, and retain more talent in our business and innovation sectors.
5. What advice would you give to someone thinking about building a life, starting a career, and/or raising a family in America's City for Health?
Rochester is worth a serious look. It's a city that is undergoing rapid change, and the community is still small enough where you can make a real impact and create true things of value if you put in the time and effort.