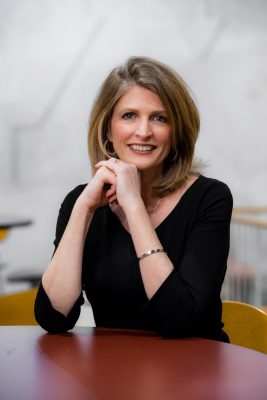 The University of Minnesota Rochester (UMR) has been an increasingly influential presence in downtown Rochester since it first opened its doors in 2006. The institution is dedicated to inspiring and empowering its students to solve healthcare challenges of the 21st century by engaging them in a one-of-a-kind, hands-on learning experience.
Just south of Destination Medical Center's (DMC) Discovery Square sub-district, UMR will serve as the cornerstone of DMC's Education & Recreation sub-district focused on the innovation, creativity, and education that sets Rochester apart from other cities of its size.
UMR welcomed its second chancellor, Dr. Lori Carrell, in February 2018 after the university's inaugural chancellor Dr. Stephen Lehmkuhle retired at the close of the 2017 school year. As progress at UMR keeps pace with the rest of downtown, Dr. Carrell's leadership will be integral to the future of the institution and the forward-thinking minds it produces.
We sat down with Dr. Carrell to learn more about her plans as UMR's new chancellor, why she feels Rochester is unique, and the important advice she would give to someone considering a life in Rochester – America's City for Health.
1. What path brought you to your current position with UMR?
I've been drawn to adventure and learning my entire life–teaching in a Yupik Eskimo village in Alaska, assisting a start-up campus for women in the Middle East, teaching and researching with preachers and prisoners, and more. When I discovered this innovative campus and was recruited to be Vice Chancellor, I just couldn't resist the call to another adventure. As we journeyed together, I found creative and collaborative colleagues –and truly inspirational students. The opportunity to serve this adventurous group as Chancellor is such a privilege because the place has a compelling vision, and the people – the people are amazing!
2. What are some of your top priorities in your position for 2018?
Our top priority at UMR continues to be student success. We aim for every interaction with every student to be evidence-based and exemplary every day. To do that, we will prioritize habits of interaction that enhance our wellbeing and sustain our culture of creativity. We'll be growing in size and influence. We'll be living our grounding values, including diversity and inclusion. And–we'll be sharing what we're learning about how to help students succeed. I'm especially excited to do just that during UMR's Higher Education Innovation Summit June 6-8.
3. What sets Rochester apart from other cities of its size?
Most days I choose to walk through the Gonda lobby while I'm getting my steps. I'm energized by the feeling of hope among the patients in that space – and there's an air of discovery too, knowing that cutting-edge research is in progress. The level of collaboration among community leaders also stands out to me – there is an authentic commitment to work together as the city grows. And of course, the vibrant downtown area is such a great environment for students at our health-focused campus!
4. Why is the Destination Medical Center initiative so important to the future of Rochester?
The collective intentionality of this initiative is extraordinary. Growth seems inevitable in this city – and as each facet of this thoughtfully-designed plan emerges Rochester will be an even better place to live, learn, play, and work.
5. What advice would you give to someone thinking about building a life, starting a career, and/or raising a family in America's City for Care and Innovation?
Get ready to contribute. We need you! Sure, it's a great place to live already, with natural beauty and a critical mass of people who want to make a difference in the world – but even better, you'll be surrounded by people who are committed to learning and to growth.