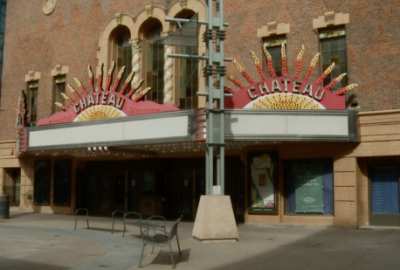 The historic Chateau Theatre in downtown Rochester may breathe new life – soon. The Destination Medical Center Corporation (DMCC) Board, at its March 22 meeting, authorized up to $1 million in 2018 capital improvement funds to enhance the beloved theatre by providing necessary building repairs, ensuring code compliance, and initiating renovations.
"This solution will allow activation of the Chateau in the short-term, while long-term planning among public and private partners to create a true destination in Heart of the City continues," says Lisa Clarke, Destination Medical Center (DMC) Economic Development Agency's Executive Director.
The hope is to have a functioning theatre to host events by the end of the year. "With these immediate improvements, this iconic venue will serve as an ideal setting for a wide variety of events," Clarke says. Concerts, lectures, dinners, luncheons, and other activities are among those that could activate the Chateau during the interim period.
Since it first opened in the late 1920s, the Chateau has long been one of Rochester's most notable downtown landmarks with its unique castle-like décor, built-in balconies and towers, and night sky ceiling. The building originally opened as a Vaudeville house but was converted into a movie theater shortly thereafter. The theater eventually closed in 1983, and the structure sat vacant for just over a decade. Then in 1994, the space was revived as a popular Barnes & Noble bookstore and coffee shop, however, the downtown location closed in 2015. Since then, the Chateau has sat mostly uninhabited as local planners determined the long-term use for the historic facility.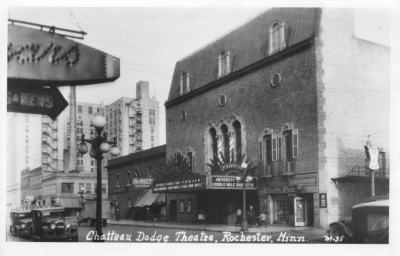 Renovations and upgrades will be necessary to bring the facility up to code, including removal of the escalator and the building's second floor. Restroom renovations and roof and window repair will also be completed to ensure a safe building for the public. The short-term infusion of capital will help with long-range planning.
The Chateau is owned by the City of Rochester, and the Rochester City Council must also approve the funding request.
At the March 22 meeting, the DMCC Board also authorized the use of $350,000 of 2018 capital improvement funds to advance design of the public realm in the Heart of the City sub-district, focusing on First Avenue and the east end of Peace Plaza, which will also be acted on by the Rochester City Council.