Rochester has a reputation for developing the innovators, entrepreneurs, and pioneers of tomorrow. The 45-plus two- and four-year higher education institutions that operate within 90 miles of Rochester further positions the city as a national leader in workforce development.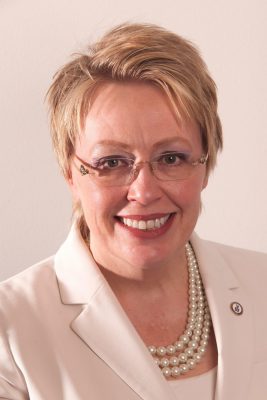 At the downtown Winona State University-Rochester (WSU-R) location, Associate Vice President Jeanine Gangeness engages with other local post-secondary institutions and the business community to develop academic programming that will meet the career needs facing the region today and in the future.
DMC connected with Dr. Gangeness to learn more about her priorities for WSU-R in the coming year and the simple reason she believes the Destination Medical Center initiative is so critical.
1. What path brought you to your current position with the WSU-R?
I was the Dean of Nursing at Bemidji State University prior to coming to Rochester. Before working as a dean, I was the department chair and faculty member in the Department of Nursing. My nursing career has been in public health and higher education. Expanding programming and increasing enrollment have been my major outcomes. I am most proud of how the work in higher education and public health support people to be their best self.
2. What are some of your top priorities in your position for 2018?
Sharing stories about our alums and the great successes they have achieved in Rochester is a top priority. I am so pleased to be a part of an organization that facilitates greatness in individual careers. WSU has just under 8,000 alums in Olmsted County – I love telling their stories.
We also hope to begin a campaign to expand our facilities and educational offerings in Rochester with a simulation center. This beautiful piece of work was done by the young and creative professionals at RSP. It is an exciting time to be in Rochester and promoting a skilled workforce.
3. What sets Rochester apart from other cities of its size?
This is a compassionate community that has an exceptional level of collaboration. For me, Rochester, Minnesota has something special. I work with six public and private higher education institutions and appreciate the work that DMC has done to support economic growth. The higher education community has very little overlap in programs and tends to collaborate. Most communities have one or two higher education institutions that dominate the community and serves the workforce needs. The Rochester community is more complex and has responded to the need with multiple institutions of higher education cooperating to serve the community. [Read more on Gangeness's blog here.]
4. Why is the Destination Medical Center initiative so important to the future of Rochester?
Economic development. We all benefit when the economy is strong. It is really that simple.
5. What advice would you give to someone thinking about building a life, starting a career, or raising a family in America's City for Health?
Engage with the people, the activities, and the organizations in the community. Rochester has a lot to offer individuals and families. Ask for help engaging. Most of the community members are willing to adopt you and help you emerge quickly. Take advantage of the many activities and great people.