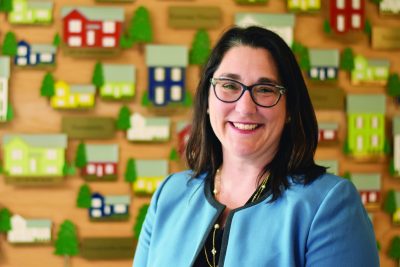 Through philanthropy and community partnerships, Rochester Area Foundation plays a vital role in building and enhancing the quality of life in the greater Rochester area for all who live, work, learn, and play here.
Executive Director Jennifer Woodford brings an extensive background in leadership and nonprofit management to the Rochester Area Foundation (RAF). Woodford's passion to improve housing affordability for all is also an aim of Destination Medical Center (DMC).
We connected with Woodford to learn more about how she came to work in her role at the Rochester Area Foundation and why she feels partnerships are key to building a stronger community.
DMC: What path brought you to your current position with the Rochester Area Foundation?
Woodford: In college, I was incredibly lucky to find my passion working for nonprofits after completing an internship for a course I was taking. As a result, I have spent my entire career working for nonprofits in some capacity. Prior to coming to RAF, I was at Channel One Regional Food Bank for nine years and spent the last six serving as its Executive Director. During my time at Channel One, I was able to learn a tremendous amount about the needs of our community. After hearing for many years from clients that they struggled with finding quality, affordable housing, I decided that if the opportunity arose I wanted to work at an organization that was working to make a difference in our community's affordable housing crisis. That is exactly one of the things Rochester Area Foundation is working to do, and I have been honored to serve as its President since last June.
DMC: What are some of your top priorities in your position for the coming year?
Woodford: RAF believes that strong nonprofits build strong communities. The grants that RAF distributes annually play a significant role in the making our nonprofit community stronger. Our well-developed relationships with community members allow us to help them use philanthropy to build better communities for all. We are committed to building our endowment – the Better Communities Fund – so that we can achieve maximum impact with our nonprofit partners.
As a local convener, we will continue to be a leader in the charge to provide affordable workforce housing. We look forward to actively participating in the Coalition for Rochester Housing, a partnership that was formed between RAF, Mayo Clinic, Olmsted County, and the City of Rochester last December, to acquire, invest, manage, and distribute funds and resources to create and preserve affordable housing.
DMC: What do you feel sets Rochester apart from other cities?
Woodford: Rochester is unique many ways, but I am repeatedly struck by how residents in the Rochester area care for and about each other. Members of all sectors of our region – nonprofits, businesses, the public sector, educational institutions, and others – work together every day to make local improvements. These partnerships harness our collective knowledge and resources and will allow us to evolve quickly to meet the broad needs of everyone.
DMC: Why is the Destination Medical Center initiative so important to the future of Rochester?
Woodford: DMC is allowing the Rochester area to grow in a bold and thoughtful way. We have a unique opportunity to envision and build a city that serves the needs of patients and residents both now and into the future. I have enjoyed working with DMC leaders to ensure that the resources the initiative brings to the area truly create better communities for all.
DMC: What advice would you give to someone thinking about building a life, starting a career, and raising a family in America's City for Health?
Woodford: Get involved! There is so much happening in Rochester and getting involved is the best way to build a network here. Whether it is volunteering for a nonprofit, helping with an event, or serving on a board or committee, there is no shortage of ways to meet new people and serve your fellow community members.