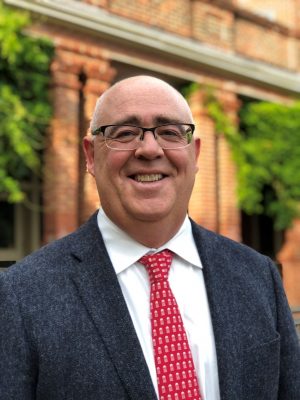 Wayne Gannaway joined the History Center of Olmsted County as its executive director in June 2019. The history center shares the stories of Olmsted County's people and places to encourage residents and visitors to explore how those stories connect to their own experience and those of their community. The organization is currently working on a re-branding to engage with a broader segment of the community, with a special emphasis on bringing history downtown, through pop-up exhibits, digital platforms and special tours and programs.
DMC: What path brought you to your current position with the History Center of Olmsted County?
Gannaway: I've had the privilege of working with iconic historic and cultural attractions throughout the United States. But I was raised in Southern Minnesota and grew up learning about our region's unique natural, cultural, and political history. I was eager to return to help tell the stories of this special area.
DMC: What are some of the top priorities for the organization in the coming year?
Gannaway: One is to establish two or more partnerships with organizations that are located in or serve downtown. Second is to create at least one pop-up exhibit or special program or tour downtown. Along with civic and religious institutions, Mayo Clinic, and farms, local businesses create tomorrow's history through their stories about founders, innovations, bricks & mortar locations, and relationships with customers. That is why we started the Business Legacy Initiative, to collect stories about businesses, to preserve them in our archives, and share them with the public, including the entrepreneurs of tomorrow.
DMC: What do you feel sets Rochester apart from other cities?
Gannaway: From the historian's point of view, I'm impressed with the stories of the prairie, settlement, and farming, alongside the innovation and strategic acumen of William W. Mayo and his two sons, Will and Charlie, along with the Sisters of St. Francis and Edith Graham Mayo and the nurses. As a resident, I love the urban amenities, especially the arts, culture, and culinary and music scenes. Rochester's cultural diversity is a huge plus and sets it apart from a lot of cities.
DMC: Why is the Destination Medical Center initiative so important to the future of Rochester?
Gannaway: One thing that is impressive about the DMC initiative is that it's an intentional, comprehensive effort to shape Rochester's growth curve. The focus on visitor experience and livability is so important. As a historian, it's interesting for me to contemplate how future historians will evaluate this phase of Rochester's development.
DMC: What advice would you give to someone thinking about building a life, starting a career, and/or raising a family in America's City for Health?
The Rochester area has a great balance of urban, small town and rural experiences. Seek out opportunities to connect with all the civic and cultural offerings, including the emerging music and cultural scenes. Then plan on exploring Olmsted County's recreational, scenic, and natural places, all within an easy drive. Don't forget to have fun and relax.