Autonomous vehicles are at the forefront of the transportation and mobility conversations, including in Rochester, where this technology has been considered by many as a potential addition to public transportation as part of the Destination Medical Center and City of Rochester's planning efforts.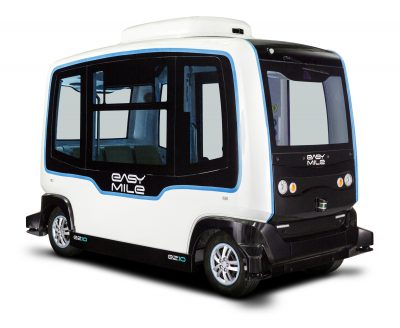 The Easy Mile 12-passenger autonomous vehicle is coming to downtown Rochester on Thursday, March 22 for a public demonstration at Peace Plaza. The public is invited to take a test ride between 10:00 a.m. – 2:00 p.m.
This autonomous vehicle was recently tested by MnDOT at the MnRoad research facility in Albertville, MN, which was the first winter weather test for this type of vehicle. The Easy Mile also shuttled people up and down Nicollet Mall in Minneapolis during Super Bowl week, and since then has made stops at the Minnesota State Capitol and the campus of 3M near Saint Paul.
Representatives from the manufacturer, the operator First Transit, and members of the MnDOT project team from recent statewide autonomous demonstrations will be on site during the Rochester demo to answer questions regarding the performance of the vehicle and its potential uses.
Governor Mark Dayton recently established a 15-member advisory council to study the opportunities that widespread adoption of automated and connected vehicles could bring to Minnesota.