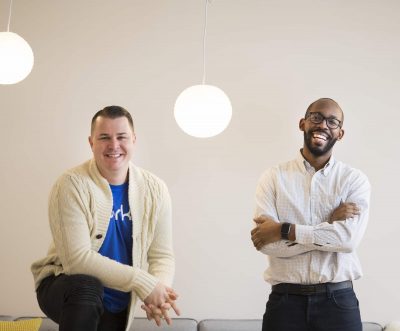 Ranked as one of the Top Ten Cities for Entrepreneurs by Livability in 2018, Rochester is not a stranger to innovation. Spark DJ is a Rochester-based music streaming service co-founded by John Boss and James Jones. The duo utilizes artificial intelligence to power their Spark DJ mobile application and deliver personalized music directly to smartphones nationwide, offering users a musical experience tailored specifically to their preferences. Spark DJ was recently selected as one of only ten startups to participate in the 2018 Techstars Music Class.
DMC recently connected with co-founder John Boss to find out more about the business and why Rochester is a great place to launch a startup of your own.
1. How did Spark DJ come about? What path led you to where you are today?
Spark DJ came about out of a market need [James and I] saw, to provide people with a DJ experience that was quick, easy, and fun. Both of us have been DJs for 16-plus years combined, and we knew that, as humans, we can only be at one place at one time. Recreating the DJ experience and adding social elements to Spark DJ are goals we strive for daily. We started off highly focused on the music and the ability to mix the music together, but today we really want Spark DJ to be fun and social in public settings. Imagine a world where you could go to a venue and already know you could interact with the music and the people around you. Spark DJ continues to get better each week through the feedback we get from our great customers and venue partners.
2. What are some of the top priorities for Spark DJ for 2018?
We are highly focused on making Spark DJ more fun and engaging for customers in a business setting. We know that if people are engaged and having a great time with Spark DJ, then they will stay around to buy more drinks or spend more in a venue. This will come through the launch of Spark DJ TV, which can be displayed visually to showcase the song playing, current song requests, leaderboards, and what songs are hot or not for the night. We also want to integrate other bar games and social meet ideas to get the people around each other to engage and feel like they're a part of the party experience.
3. What sets Rochester apart from other cities of its size?
What we have loved about Rochester, and what has really set the city apart, is the supportive nature of the young professionals as well as the willingness to help from the city itself. Having RAEDI (Rochester Area Economic Development, Inc.) be one of our initial investors shows they are willing to take a risk on local innovators and support tech startups outside of the medical space. Even during our earliest stages of beta testing, local bars and restaurants invited us in and offered a safe place for us to test and gather feedback. This is something that is unique and can't be found in other cities.
4. Why is the Destination Medical Center initiative so important to the future of Rochester?
Destination Medical Center is essential to Rochester because it is taking a proactive step to make sure the city is ready for the growth to come and the life needed to surround that. DMC is initiating relationships with those involved in local art, music, food, and tech to ensure that living in Rochester is fun for people of all ages. Having a healthy work/life balance is important, so supporting diverse ideas around entertainment, food, and nightlife will be key as growth comes through Mayo Clinic and others.
5. What advice would you give to someone thinking about building a life, starting a career, or raising a family in America's City for Health?
I would advise someone moving to Rochester to take advantage of everything it has to offer. When you look at downtown, it showcases weekly a great list of events where people can get involved and participate. Networking events are also a great way to not only meet new friends but also further your professional career. Finally, have fun! Rochester is full of great restaurants, bars, venues, and sports teams that someone can go experience today. I am excited to see great things pop up through DMC, but in the meantime, grab a friend, go downtown, and have some fun.