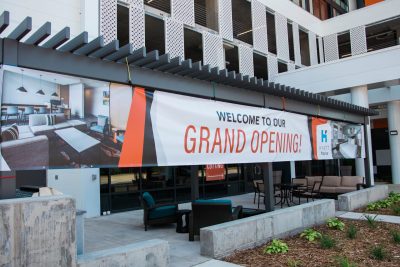 The recent Hyatt House ribbon-cutting ceremony marked a milestone for Rochester. The event heralded the completion of the city's first Qualified Opportunity Zone project: a hotel of 172 apartment-style, long-stay suites designed to provide crucial comfort for patients traveling into the city.
"This is really a home away from home for people who need a place of comfort and safety," said Chris Schad, Director of Business Development for Discovery Square. "People who are staying here become members of our community."
He further noted this project's place in the bigger picture: across the street, he mentioned, will be the new Bryk Apartments, a new workforce housing project that broke ground this summer. That synergy of business, residential life, and visitor comfort points to the big reason the ribbon cutting was significant: the revitalizing effects of Qualified Opportunity Zone programs, which use tax incentives to encourage investment in struggling areas of a city.
The much-beloved American Legion Post #92 used to stand where Hyatt House does now, making the site a significant one for Rochester locals. Speakers at the ceremony also remarked that the site posed a challenge for architects, but its location near proton beam therapy, inside a QOZ, made the project essential.
"Our location next to the proton beam therapy is especially important. This is one of the four proton beam therapy locations in the world. And until this hotel was built, there was really not a great place to stay that was in close proximity," said Ebbie Nakhjavani, CEO of EKN Development Group.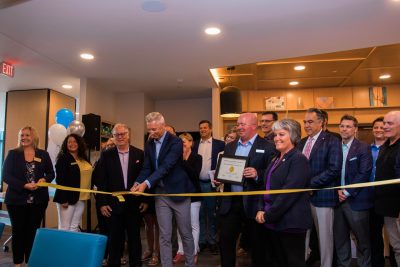 EKN wound up designing the project in-house, and in April 2019, ground was broken. In the ensuing years, PEG Companies and EKN Development Group worked diligently in collaboration with Mayo Clinic and the American Legion, despite a global pandemic, to complete their mission.
"I have to tell you that working here at the city of Rochester, was actually a very pleasant experience. They've created the perfect platform that is business friendly. It invites hotels and other types of developments to come in and build a project that fits the neighborhood, fits the community, and embraces the community," said Nakhjavani.
Destination Medical Center supported the development with public infrastructure funding, further highlighting the power of public-private partnerships.
"I think many of us weren't sure anything could be built here," said Mayor Kim Norton. "But this beautiful structure stands on that unique space. I think it does speak to our community; we are not only known as a community of compassion and care, and healing, but we're also known as a community of innovation."
The hotel, with its unique features, she said, adds to Rochester's culture of innovation.