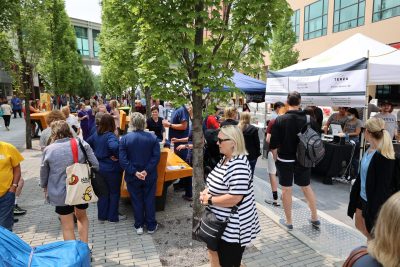 Thousands of people returned to downtown Rochester this month to celebrate the return of Thursdays Downtown, a summer staple in the community. Amid the live music, food, and shopping, attendees could also spend time checking out the big changes happening in the Heart of the City Phase 1 project.
DMC Economic Development Agency executive director Patrick Seeb, City of Rochester Mayor Kim Norton, and Rochester Downtown Alliance executive director Holly Masek stopped by the Heart of the City Thursday morning to welcome residents and visitors to the first Thursdays Downtown of the year. They shared that as the summer progresses, parts of the Heart of the City project will re-open as soon as they're complete.
"In the past two weeks we have cut the ribbon on the Hyatt House, an extended stay hotel, we welcomed Exact Sciences to One Discovery Square, we broke ground on the Bryk Apartments, a workforce housing development, and today we are welcoming the community to the rolling reopening of Peace Plaza and Heart of the City," said Seeb.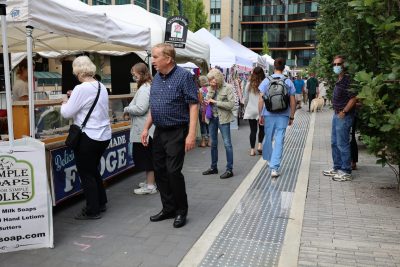 The first phase of DMC's Heart of the City public realm project is a renovation of Peace Plaza and surrounding areas. The new design will create active, engaging experiences for residents, visitors and patients in the heart of downtown Rochester. Updates include enhanced safety measures, including curbless streets, and provide greater accessibility for people of all abilities.
"It is a great time for our partners to celebrate the work that's being done with the Heart of the City development," said Mayor Norton. "We're not done yet but we're moving along nicely."
Construction on the project began in Spring of 2020, at the start of the pandemic.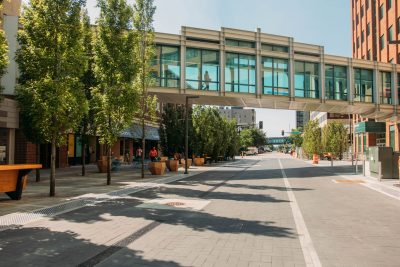 "The men and women working said 'we'll do everything we can to open this project as it becomes available, and we'll take advantage of the downtime when people are not out and about to get this work done,'" explained Seeb. "We are so proud of the work they have done and the relationships they have built with the businesses down here."
As they come to future Thursdays Downtown or other shopping, dining and entertainment in downtown Rochester, residents and visitors are encouraged to stop by and watch the progress being made.
"It's a rolling reopening but you can see so much already that has changed and we can't wait to see all of you downtown," said Masek.