Just over one year ago, the future of the Rochester Armory was uncertain. Today, the historic downtown landmark is just weeks away from opening to the public as a rejuvenated multi-use facility, located in the Destination Medical Center district in downtown Rochester.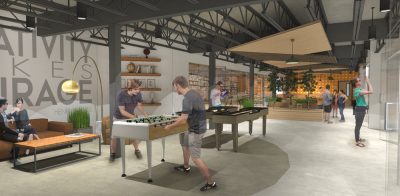 Castle Community will marry art and creativity with dining and entertainment in this culturally rich, century-old space.
"We're nearing completion," says Naura Anderson, who will manage the Castle's art store as well as special events and arts programming. The building is owned by a group of private investors who purchased the building from the city of Rochester in late 2017, and Anderson says they have been fortunate to have a great deal of support. "We all want this to be a true community asset," she says.
The lower level of Castle Community will be home to "Cameo," a new upscale casual restaurant and bar. "Cameo will feature the greatest hits from around the world," Anderson says, further describing the fare as "comfortable cuisine inspired by worldly flavors." Cameo is owned by Zach Ohly, a Rochester native and chef, who will also cater events and meetings throughout the rest of the building.
On the second floor of the Castle, a creative community commons – inspired by a visit to Denver's Union Station – is equipped with WiFi, shuffleboard, foosball, and comfortable seating for working and lounging. Artist studios with glass storefronts offer the public a unique perspective to watch creatives in action. "The design ensures the public and the artists intersect," Anderson explains. An artist-run makerspace, bookstore and vinyl record shop, coffee counter, traditional photography darkroom, and an art store – complete with its own hands-on workspace and ready-to-make projects – are also expected to inhabit the second-floor space.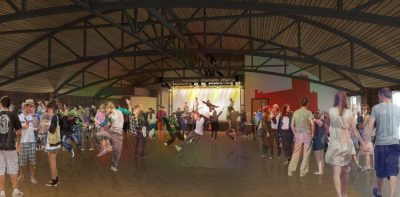 Topping off the renovated structure is a 4500-square-foot event and performance space where the building's rustic bones come together with today's modern technology. With capacity for up to 450 people. An art gallery, and public community room also reside on the Castle's third floor.
Anderson says being part of the renovation of this significant and celebrated local space has been a true privilege. "It's the biggest project I've ever been a part of," she says. "That's the awesome thing about a community like Rochester. We have been able to pull all of our dreams together under one roof and recreate something incredible right here in our hometown."