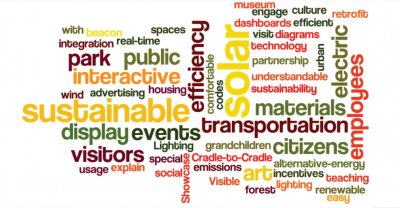 Sustainable development is essential for economic growth and a key priority of the DMC initiative. Improving community health, exploring alternative modes of transportation, and reducing consumption of water, waste, energy, and emissions are just a few of the goals outlined in the DMC plan.
But these goals cannot be achieved by a single person or organization. To achieve a sustainable future for America's City for Health, it will take an informed and engaged community working together.
DMC is launching a monthly speaker series to help initiate a community-wide conversation about sustainability. DMC's Energy and Sustainability Director Kevin Bright says the series will provide a platform for public discussion. "Locally, there is a lot of enthusiasm about sustainability, but by and large, industry experts are only meeting with others in their field – designers meeting with designers, environmentalists with environmentalists, and so on," he says.
Bright is hopeful this series can help break down some of those silos and, ultimately, achieve three critical goals. "First and foremost, we want to educate the community about sustainability issues. But we also want to highlight common ground, best practices, and case studies so we can increase the amount and rate of local sustainable building projects." Bright says he hopes the series also helps build a sense of community.
The first session in the series will bring together DMC and the community for a discussion about the current status of sustainability in Rochester and what is being planned for the future. The event will be held Wednesday, December 13 at the Rochester Public Library from 12:00-1:00 p.m.
Future topics will vary, focusing on an element of green building, operations, home efficiency, or other topics related to sustainability.
If you have topic suggestions for the series, contact Kevin at [email protected] or 507-216-4457.
---
What: DMC Sustainability Series Kick-Off
When: Wednesday, December 13 from 12:00-1:00 p.m.
Where: Rochester Public Library
Healthy snacks will be provided, but attendees are invited to bring their own lunch.