Heart of the City will be aglow this November when Destination Medical Center partners with the Rochester Downtown Alliance and Northern Sun Productions to introduce a first-of-its-kind event to Rochester.
Airglow will bring interactive lighting installations, including a 40-foot inflatable igloo, to downtown's Peace Plaza from November 4-11. The all-ages event will take place each evening from 5-10 p.m.
"Airglow is a wonderful family-friendly activity and a terrific way to test concepts from the Heart of the City design plan," says Patrick Seeb, DMC EDA Director of Economic Development & Placemaking.
Heart of the City design concepts incorporated include: organizing a multi-day, cold weather event, utilizing art installations as attractions, and hosting an all-ages ticketed evening event.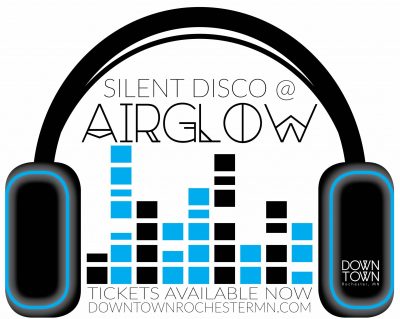 One of the highlights of "Airglow" will be a ticketed event: a silent disco, scheduled to take place on November 10 and 11. A silent what? Yes, you read that right – the latest in music festival trends is coming to Rochester.
What's a "silent disco?"
Picture a typical nightclub. You walk in and hear the music pumping and a dance floor crowded with people grooving to whatever songs the DJ decides to play.
At a silent disco, each guest sports a pair of headphones and the music they're jamming to could be anything from country to classic rock to electronic dance. Take the headphones off and you're guaranteed to hear the singing and laughing that goes along with this entertaining spectacle.
"When Ben [Assef with Northern Sun Productions] came up with the idea, we were all excited," says Samantha Rossi, marketing and communications manager for the Rochester Downtown Alliance. "It's such a cool concept – I can't wait to see it come to life."
Residents, visitors, and patients can look forward to more engaging events like Airglow as DMC evolves.
Learn more about Airglow on the RDA website and mark your calendar today to attend this can't-miss, community event!