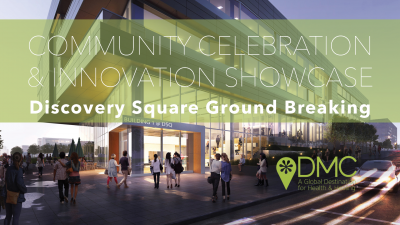 As part of the groundbreaking ceremony for a new, innovative life-science building in Discovery Square, Destination Medical Center (DMC) is hosting the Discovery Square Community Celebration and Innovation Showcase Thursday, November 2, 2017, from 11:00 a.m. – 1:00 p.m.
This event will be held in the Discovery Square sub-district, on 5th Street SW between 1st and 2nd Avenues SW (just west of Pasquale's restaurant).  It will bring together art, science, and community to celebrate the progress that's already taken place in Discovery Square, and look forward to its promising future.  It's also an opportunity to meet the innovators and entrepreneurs that are already creating great innovations in Rochester.
"Discovery Square is a highly connected urban life science hub, attracting the world's leading medical practitioners, educators, researchers, and businesses," says Lisa Clarke, executive director of the DMC Economic Development Agency.
When: Thursday, November 2 from 11 a.m. to 1 p.m.
A formal groundbreaking for the Mortenson Construction Discovery Square Phase 1 building will follow the Celebration and Innovation Showcase at 1:00 p.m.
The DMC initiative has reached several milestones this past year, with continued interest from investors and developers, witnessing the success of local startups and entrepreneurs, and seeing plans for several DMC sub-districts come to life.