DMC is dedicated to creating first-rate experiences not only for those who live and work in America's City for Health but also for the 3+ million people who visit Rochester each year.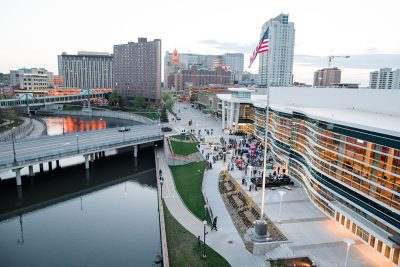 Since first opening its doors in 1938, the Mayo Civic Center has been attracting conferences, entertainment, and sporting events, balancing the needs of the community with those of visitors and clients. Now, on the heels of a recently completed $84 million convention center expansion and facility renovation, Mayo Civic Center is set to realize the economic benefit in 2018 after 21 months of exceeding booking projections in 2016 and 2017.
"New bookings are up over 30%, mainly because our spectacular new venues are helping us attract more and bigger conventions and meetings," says Brad Jones, executive director of the Rochester Convention and Visitors Bureau, reinforcing the decision to invest public dollars into the space. The goal for the Mayo Civic Center post-improvements was to introduce $20 million annually in new spending to the Rochester community. Jones says they're within one million of that goal for 2018. "We thought it might take a couple years to reach that level, but we're almost there now," he says.
So far, customers have been impressed with the unique features the facility now offers – including enhanced pre-function space complete with a floor-to-ceiling glass wave wall that offers spectacular views of downtown and the new outdoor Riverfront Plaza, state-of-the-art technology, and the state's largest ballroom. Jones says the space is strategically designed for quick transformations to accommodate a multitude of users.
While the new space itself is an asset to the community, Jones shares that people don't always understand how Mayo Civic Center fits into the overall growth strategy for the city. When visitors come to Rochester – whether they are patients at Mayo Clinic or in town for a weekend conference or event – they sleep, eat, and shop local. "Hotels, restaurants, and retail all require business seven days a week," Jones says.
The DMC initiative was established around eight core areas that intersect to create a world-class destination and ensure Rochester has a strong, diverse economy:
Arts, Culture, & Entertainment
Livable City
Hospitality & Convention
Research & Technology
Sports, Recreation, & Nature
Learning Environment
Health & Wellness
Transportation
By offering a broad spectrum of events that address these fundamental themes, Mayo Civic Center helps to generate year-round economic impact to businesses and adds vibrancy and diversity to the DMC District.