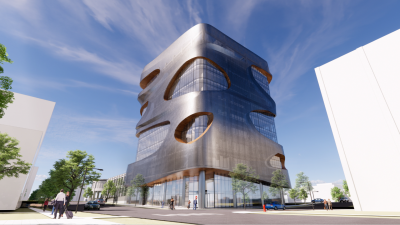 The long tradition of biomedical innovation that makes up Mayo Clinic's DNA will continue with the Anna-Maria and Stephen Kellen Building on the Rochester, Minnesota, campus, set to open in the fourth quarter of 2023. Research is the engine that drives advances in medical care, and the new facility will enable the team-based scientists of Mayo to continue finding care solutions for patients.
Funded in part through a gift from the Anna-Maria and Stephen Kellen Foundation as well as other generous benefactors, the energy-efficient structure will feature 11 floors and 176,000 square feet of flexible laboratory space. Philanthropy will play a key role in its completion. The building will be located at the intersection of 3rd Street SW and 4th Avenue SW with underground connectors to the Opus and Baldwin Buildings.
"Research is a key pillar of our 2030 strategy," says Gianrico Farrugia, M.D., Mayo Clinic's president and CEO. "We're committed to advancing more cures, connecting more patients to our expanded expertise, and transforming health care for people everywhere. And that transformation starts with research."
The new building's high-profile exterior showcases Mayo Clinic's commitment to transformative biomedical research. The integrated work environment continues the legacy of team science and collaboration with incremental facilities for basic and translational cancer biology as well as other areas of scientific inquiry.
"The generous commitment from the Anna-Maria and Stephen Kellen Foundation, totaling $49.3 million, and gifts from other benefactors will enable us to create a building that fits into Mayo Clinic's '2030 Bold. Forward.' research priorities, supporting flexibility and growth for emerging scientific technologies. Mayo investigators will be able to discover and translate even more breakthroughs to address the unmet needs of patients," says Gregory Gores, M.D., Kinney Executive Dean for Research, Mayo Clinic.
The building initially was announced in 2019 as a four-story building. The pandemic experience has demonstrated the need to grow and accelerate scientific advancements, and science is conducted in physical space. The facility will complement community and industry partners dedicated to improving patient care, health and wellness in downtown Rochester's DMC Discovery Square district, a research, innovation and development hub.
"The Anna-Maria and Stephen Kellen building is a welcome addition and will bring more world-leading research to DMC's Discovery Square," said Patrick Seeb, Destination Medical Center Economic Development Agency executive director. "Advancements in medical care made in this new facility will complement Discovery Square's collaborative and innovative spirit."
The Anna-Maria and Stephen Kellen Foundation has been a significant contributor to Mayo Clinic over many years, funding various initiatives and projects in support of Mayo Clinic's priorities. The foundation leaders' late parents, Anna-Maria and Stephen Kellen, received care at Mayo Clinic for decades, and that trust and care have continued into the next generations of the family.