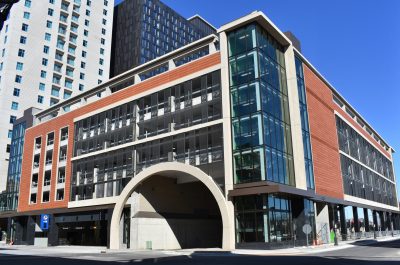 When is a parking ramp more than just a functional structure for stacking up cars? That question has found an answer with the city of Rochester's new "Parking Ramp #6," which opened March 26.
This $31.4 million, 630-stall municipal project has indeed been designed as much more than just a parking ramp — although in that simple role alone it is a much-needed improvement as Destination Medical Center (DMC) creates more growth, energy and vibrancy downtown.
And to be sure, merely as parking ramps go, it's something special. Ramp #6 has several cutting-edge design features such as a space guidance system to help parkers more quickly find available stalls, license plate recognition to speed entry and exits, and a mobile app to help locate parked vehicles.
In addition, a landscaped plaza to the east along First Ave. NE will provide bicycle storage options and feature backlit art walls to create a welcoming public space.
But as one of the earliest infrastructure projects to receive financial support from the DMC, the city has always had bigger goals in mind for Ramp #6 than simply providing additional downtown parking.
One aspect of that vision is its strategic location which leverages other DMC-backed efforts. Situated on 1st Avenue SE and between Center Street and 1st Street SE, it's on the same block as two important lodging amenities: Titan Development and Investments' Hilton Hotel, which is preparing for an April 16 opening, and the Broadway Plaza. The ramp will provide them with new skyway access points, thus greatly enhancing pedestrian connections.
The parking ramp has also been designed to accommodate up to 10 stories of residential development atop its easternmost section. The City and DMC are actively seeking proposals to construct mixed income or affordable housing units on the site.  
A grand opening for the new ramp is being planned for summer.