With the newly unveiled mural Sol Flowers by local artist Jenna Whiting on display, the Rochester community gathered in a most unlikely spot for Destination Medical Center's 2022 Annual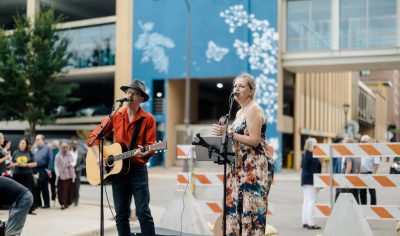 Meeting. At the corner of 1st Avenue and 1st Street Southeast, guests enjoyed music from local duo True North, food from The Duck Truck and Infuzn, and a perfect southeast Minnesota evening. DMC partner organizations lined the tunnel next to the railroad tracks, showcasing the myriad ideas and activities that make downtown Rochester a vibrant, welcoming environment.
The location may have seemed unusual at first – located next to three parking ramps and an undeveloped city block – but, as DMC Executive Director Patrick Seeb described, it's at the nexus of several potential development sites, as well as a future extension of the Heart of the City, connecting Peace Plaza with the Mayo Civic Center and the Zumbro River. "That is the conversation we want to begin tonight is thinking about the future of this site, thinking about the public realm potential of 1st Street connecting the downtown to Mayo Civic Center," said Seeb.
Reasons for Optimism
DMC EDA President Dr. Clark Otley spoke about the continued optimism for the future of DMC and Rochester. He pointed to the continued expansion of the Mayo Clinic Downtown campus with the Anna-Maria and Stephen Kellen Building and Proton Beam facility expansion, as well as the completion of Two Discovery Square as reasons for enthusiasm. "When we think of facilities, we think about building world-class facilities for world-class doctors and researchers and nurses and technicians for patients from across the world who have the toughest diseases in the world," stated Otley.
Dr. Otley shined a spotlight on another significant project. "Earlier this year, we opened up the Peace Plaza to a renewed, beautiful state," he noted. "Those of you that made it down through the summer saw little kids stomping in water, families having fun… It's a really beautiful space." He also prefaced the excitement of Discovery Walk construction as it will connect Peace Plaza to Soldiers Field Memorial Park.
The Riverfront presents another area for optimism. "It's going to be an opportunity to be a legacy for our community," he continued. "DMC has been a very good partner with the City, the County, and lots of other agencies, to do a community discovery process to really get input. What does that mean for us? What can we make that space into really speaks to our vision as a community? A community that is focused on health and equity and diversity and sustainability moving forward."
Capacity Building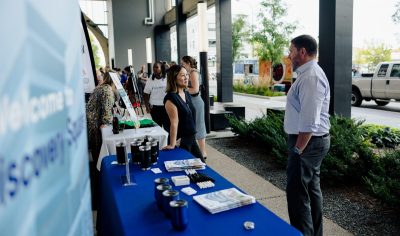 Mayor Kim Norton spoke about the importance of ensuring all members of our community participate in the prosperity of the DMC initiative. "Not only are we designing and building the infrastructure necessary for Rochester's successful growth," Mayor Norton said, "we are also designing and building the systems necessary to ensure that how we build is just as important as what we build."
Mayor Norton spoke about the goals that the City of Rochester and DMC share to make sure that women and minorities have opportunities to participate in publicly funded projects. She also spoke about the community co-design process which is an approach to encourage, compensate, and prioritize the inclusion of diverse populations throughout the design and development process. Community Co-Design has become a valued and effective community-centric approach to developing healthy and equitable projects, policies, and practices in the Rochester region. It has been used for projects like Discovery Walk, LINK Bus Rapid Transit, and Riverfront Small Area Plan development. Norton stated, "We use co-design to ensure that there would be inclusive, accessible, and welcoming spaces that encourage health and cultural belonging."
Attention was also brought to collaborations with the local business community including the Business Forward strategy that has been employed on several recent construction projects like Heart of the City Phase I and Discovery Walk. Business Forward is meant to mitigate the impact of construction by prioritizing the needs of businesses and other stakeholders in the construction process.
The Main Street Economic Revitalization Grant Program was also highlighted. It is a partnership with the Minnesota Department of Employment and Economic Development designed to help our downtown businesses recover from the pandemic, as well as elevate opportunities for BIPOC, veteran, and disabled business and property owners. "To date, 30 organizations have been recommended for funding totaling over $1.6 million," announced Mayor Norton. "These funds will help to leverage over $48 million in private investment into Rochester's downtown. Our local businesses are the lifeblood of our community. We are eager to support them in whatever ways we can."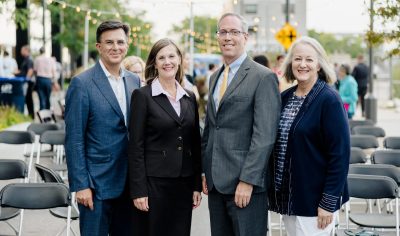 Vision for the Future
DMC Corporation Chair Pam Wheelock pointed to the "persistence, resilience and spirit that is woven into the very fabric of this community" for an optimistic view of the future. She called attention to the way Rochester's business community responded to the pandemic by pivoting to find new ways to safely reach their customers and to those that caught the entrepreneurial spirit and brought their ideas to life.
"The persistence, resilience, and community spirit already in evidence in Rochester bodes well for achieving Destination Medical Center's vision of making Rochester America's City for Health," said Wheelock. "We are already attracting new investment from outside the area, including new commercial development and new life science and technology companies."
She referenced the significant infrastructure improvements in the past and on the horizon, as well as a continued focus on community engagement as reasons why Rochester has a bright future. She also stressed the importance of telling Rochester's story to the world as not only a destination for the world's best medical care but also a great place to live, work and raise a family.
"On behalf of the Destination Medical Center Corporation's board of directors, I want to express profound thanks and gratitude for the myriad partnerships and collaborations that have enabled the progress we have seen through DMC's first years," Wheelock avowed. "I firmly believe that what we have accomplished together so far grants us the right to think very boldly and optimistically about Rochester's future and to fulfill our ambition to be America's City for Health."
Final Surprise
Patrick Seeb again took the stage to introduce the evening's final speaker, one that was not on the agenda when the Annual Meeting was being planned. As part of the "leave behind" to continue bringing attention to the meeting space, a mural was painted on the blank wall of the Civic Center Ramp. There were many amazing artists that submitted ideas but none of them w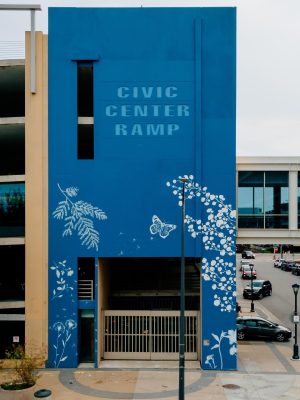 ere better than Jenna Whiting. "I would like to give the last words to Jenna Whiting to describe this piece of art that will now be permanently part of our community," said Seeb. "Perhaps it will be an inspiration for how we can use other blank walls in our community, to start enlivening and connecting."
Jenna Whiting was born and raised in Rochester, MN. As a self-taught artist, she specializes in mural work, digital design, children's book illustrations, and acrylic painting. Her designs reflect a sense of whimsy and childlike wonder but are also balanced with simplistic and sophisticated methods.
Here is Jenna Whiting's description of her piece in her own words. "My inspiration for Sol Flowers literally came out of thin air. As I was reaching for my drawing tools to sketch out some ideas, three sun prints I had recently created fell to my feet in a perfect layout. I'm pretty sure a beacon of light was shining somewhere. I immediately imagined the facade of this building covered in botanical images on a vivid cyan background. The images are inspired by native grasses and flowers growing throughout our city – which are just as captivating to see on the ground as they are five stories up."
A perfect end to a perfect southeast Minnesota evening.
---
Thanks to our sponsors
Gold Sponsors
---
Silver Sponsors
---
Bronze Sponsors
Alatus LLC, Home Federal Savings Bank, SRF Consulting Group, Inc., Knutson Construction, Premier Banks, Benike Construction, Fredrikson & Byron, P.A., Mortenson, Camegaran, Ryan Companies US, Inc., RSP Architects