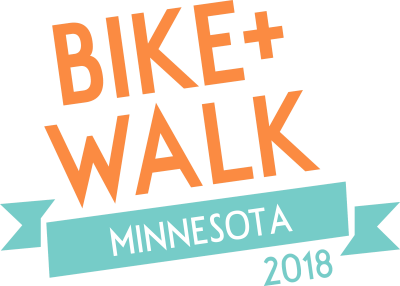 This spring, Rochester is proud to welcome the Bike+Walk Minnesota conference (April 29 – May 1), bringing together planners, professionals, and advocates from across Minnesota to explore connections between biking and walking, discuss how communities are creating better public spaces for all users, and address the open-ended question of what comes next for transportation and recreation options in Rochester and around the state.
What's happening at the Bike+Walk conference?
Opportunities to network begin the evening of Sunday, April 29 with conference programming and breakout sessions running from Monday morning through Tuesday afternoon.
The Bike+Walk conference agenda is broken down into four paths — Adventure + Economics; Design + Development; Art + Engagement; and Safe Routes to School + Community. Keynote speakers for the conference include Gil Penalosa and Cheri C. Wilson. Penalosa advises decision makers and communities on how to create vibrant cities and healthy communities for everyone – regardless of age, gender, and social, economic, or ethnic background. Wilson's work focuses on the intersection of health and healthcare disparities and health equity as they relate to racial/ethnic, language, and gender and sexual minorities and the provision of culturally competent patient-centered care in language understandable to all patients. More than two dozen breakout sessions will be offered during the two-day event, giving attendees the chance to explore and engage in a variety of topics, including active transportation, community development, inequities, and advocacy.
Not attending the conference? You can still get involved.
At 5:30 p.m. on Monday, April 30, both conference goers and community members are invited to gather at Bleu Duck Kitchen where they can hear from and engage with conference keynote speaker Gil Penalosa. Penalosa will discuss the importance and benefits of active transportation for the community of Rochester as it relates to the City's recent transportation planning efforts. Hors d'oeuvres and cash bar available. RSVP here today.
To learn more about the community engagement opportunities that are being offered, please visit this link. To register for the Bike+Walk Minnesota conference, click here.