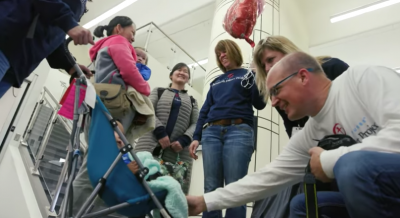 In Rochester, Minnesota there are seemingly endless ways to give back to the community. But Rochester resident Michele Nelson took volunteerism a step further when she and her family opened their home to two families from Mongolia as their infant sons awaited heart surgery at Mayo Clinic.
Nelson works in Delta Global Services at the Rochester International Airport (RST), where she saw firsthand the impact of the Children's Heart Project, a Samaritan's Purse initiative in which the group arranges life-saving operations for children from countries lacking the medical expertise or equipment available elsewhere. Now, Nelson and others have become the focus of a new RST-commissioned documentary that chronicles the five-week journey of patients, families, translators, hosts, and medical professionals as they navigate new life-changing experiences.
For more than 20 years, Samaritan's Purse has been bringing children to Rochester for medical care, providing airfare not only for the child but also for a parent and translator. They also help arrange for lodging during the family's stay.

"The airport is Rochester's front door," says Tiana O'Connor, marketing and communications manager at RST. "Many of the people coming to Rochester for medical care have been through a day or more of travel and often arrive overwhelmed and intimidated. But when they get off the plane and see strangers here to greet them with smiles, hugs, and balloons, you can see a visible sense of relief."
The documentary captures a spectrum of emotions as cultural differences are overcome and lifelong bonds are formed. "Everybody has a yearning to be part of something bigger than themselves," says Nelson, who initially supported the Children's Heart Project by providing meals for host families. Over time, she and her children got to know the mothers and the babies and recognized that they could make a much greater impact by hosting the families in their own home. "It's an incredible feeling for a mom like me to help another family and see the impact this experience has made both on them and on my own family," Nelson says.
To view the documentary and learn more about this heartwarming story, visit flyRST.com/heart.