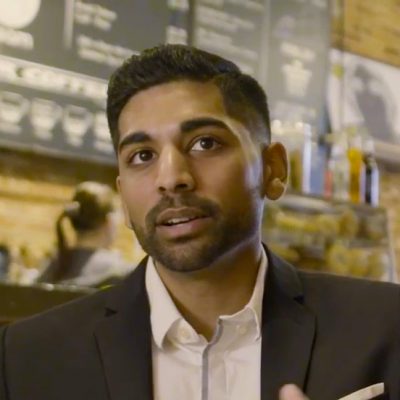 The Commission is a young professionals organization that aims to make a positive impact on the Rochester community by connecting and engaging young professionals and encouraging them to explore opportunities for collaboration and increase their community involvement.
As cities around the nation vie for workers to replace retiring baby boomers, groups like The Commission can enhance a sense of community and make Rochester the ideal place for millennials – and professionals of all ages – to live, work, and engage.
Founder and President Sankesh "Sunny" Prabhakar has been the driving force behind The Commission since its inception five years ago. We sat down with Sunny to get his take on how young professionals will help shape Rochester's future.
DMC: What path brought you to your current position with The Commission?
Prabhakar: In 2013, I opened a smoothie shop while working full-time and employed primarily young professionals to run the business. From finding space to installing plumbing and signage, I connected with people who were at the same stage of life as me. It was then that I saw the need to get these motivated people in a room together to understand how we can create a positive impact in the community. It was this thinking that gave birth to The Commission.
Today, we run 80+ events annually, continue to grow our membership, and create opportunities for young professionals to not only become more engaged in the community but have a voice in its direction.
DMC: What are some of your top priorities for the coming year?
Prabhakar: We are really focused on sustainability and collaboration for the coming year. We are constantly analyzing what is working and what is not as we grow to be strategic in our decisions. We are looking to strengthen our partnership with Think Bank and others who have demonstrated their interest in developing the younger workforce.
It is no secret that workforce is an issue and, in order for the community to thrive, we need to attract and retain talent. The Commission is seeking to be a part of this solution and collaborate with other like-minded organizations. We are firm believers that collaboration fosters innovation and the more that we can break down silos and work with others, the more successful we will all be.
DMC: What do you feel sets Rochester apart from other cities?
Prabhakar: Rochester is one of the most unique cities in the country. There are not many cities who can have a floating annual population of nearly 30 times the size of the resident population. People come to Rochester from all walks of life and for many different reasons. Some have come to work or study at Mayo Clinic, some have come to escape war-torn countries, and some have come here to raise their families. No matter the reason why people have chosen Rochester as home, the clear difference that sets Rochester apart is the people.
We live in a community that is surrounded by visitors who come from all over the world and who suffer from ailments unbeknownst to us. The way we treat them and the way we care for others is evidence of how much empathy our community has for those around us.
DMC: Why is the Destination Medical Center (DMC) initiative so important to the future of Rochester?
Prabhakar: DMC is allowing us to strategically plan for the growth that is expected in Rochester. In 1993, the resident population of Rochester was 76,272. In 2013, when the DMC legislation was passed, the resident population was 110,564. So, we have gone through these population growth trends before, but we never had an opportunity to plan for that growth.
Destination Medical Center is our opportunity to be intentional and strategic about how we grow. The infrastructure and innovation that we can put in now will benefit our community tremendously in the future and allow our city to truly become a destination.
DMC: What advice would you give to someone thinking about building a life, starting a career, and/or raising a family in America's City for Health?
Prabhakar: Take a few days to visit Rochester and interact with the people that are here. Engage in the culture that is so uniquely Rochester, and experience the caring and welcoming nature that the residents bring. We are in the process of a transformative change that welcomes new ideas, new energy, and new input. It is the people that make Rochester a special place to live and the people that make this community great.