Jobs survey site ziprecruiter.com has named Rochester as the third-best overall jobs market for 2015, and second-best market for cities with populations of 250,000 or less. Minneapolis, meanwhile, snagged the site's top spot (scroll down the page) for cities with more than 1 million residents.
Zipreruiter reports formulating the rankings based on data from the U.S. Bureau of Labor Statistics and ratios covering both the number of applications-to-jobs and applicants-to-employers.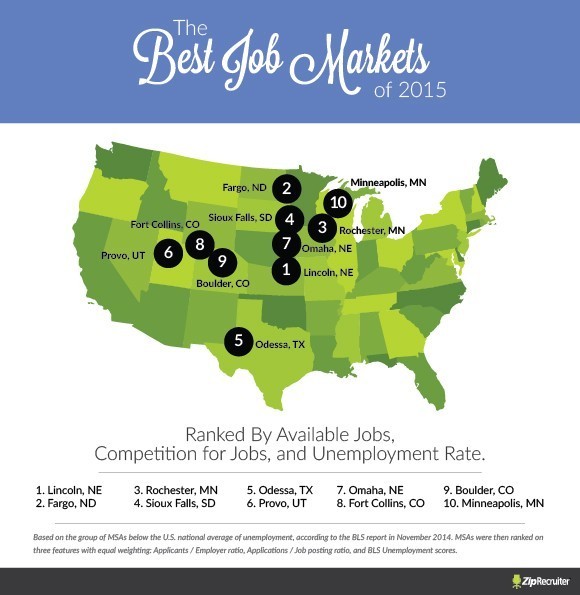 The site's authors refer to a booming health care market and Mayo Clinic expansion as forming the primary rationale for Rochester's high ranking in the two categories.
Recent surveys from the Rochester-Olmsted Council of Governments (ROCOG) back up the forecast that health care employment is set to grow dramatically in the coming years. ROCOG's 2040 Long-Range Transportation Plan, a federally mandated transportation survey, projects that health care and bioscience employment in Rochester and Olmsted County will increase by more than 50 percent between 2009 and 2040.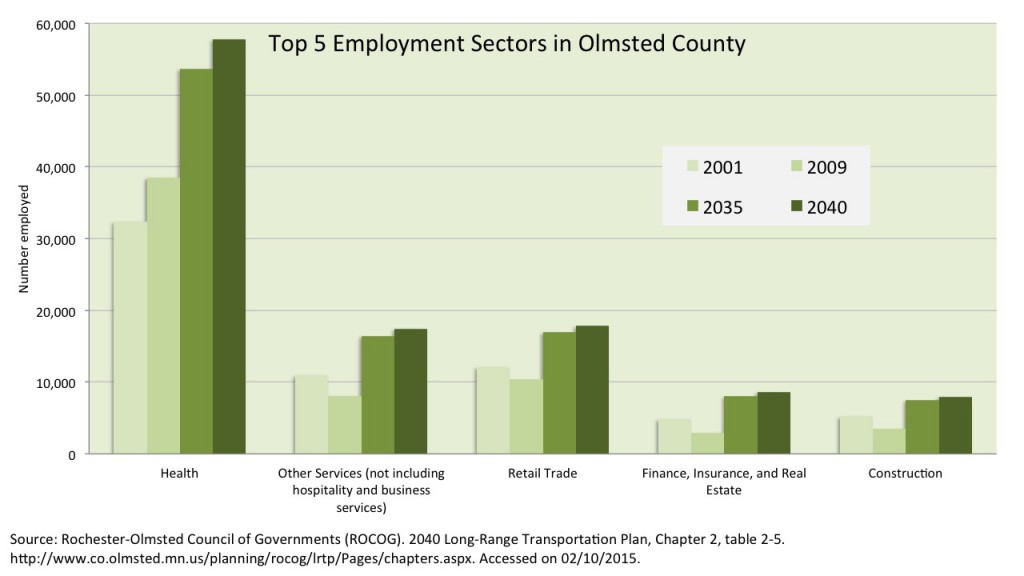 The latest version of the Draft DMC Development Plan draws on these same statistics from the ROCOG and adds that these top five employment sectors account for nearly 70 percent of jobs in the area.
DMC planners again cite ROGOC in projecting the region will add 57,000 new jobs by 2040, an increase of 53 percent.
The sectoral composition of employment will drastically shift in the region away from farming and toward service-oriented industries.
—  Draft DMC Development Plan
Health and social services are predicted to make up an increasing share of employment, according to ROCOG and DMC planners. Here a key highlights the plan calls out:
In 1990, health and social services made up 26 percent of employment in Olmsted County; by 2040, the sector will comprise 39 percent of employment.
The information sector is forecasted to have the highest annual growth rate of 2.6 percent, partially to make up for its relatively low current level.
Farm employment is the only sector forecasted to lose employment, with an average annual rate of decline of 0.9 percent.