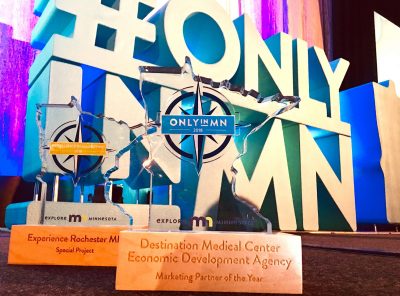 Destination Medical Center Economic Development Agency (DMC EDA) has been awarded the "Marketing Partner of the Year," presented by Explore Minnesota, the state's tourism promotion agency at its annual conference in Saint Paul on February 5. DMC EDA was nominated by Experience Rochester.
The "Marketing Partner of the Year" award recognizes outstanding marketing or special projects executed by an individual business which enhances the overall visibility of a community and directly impacts visitor travel to the area.
In its nomination of DMC EDA, Experience Rochester noted:
The staff members of the Destination Medical Center Economic Development Agency (DMC EDA) work tirelessly to make Rochester, MN an exceptional place to work, live, and visit. Experience Rochester MN is nominating DMC EDA because of their dedication to always including Rochester's 3.3 million annual visitors — many of whom are visiting Mayo Clinic — in their mission and vision for a vibrant, innovative community. A recognition of the importance of travel & tourism is integrated into everything the DMC EDA pursues.
The award judges felt this partnership is like no other; it's an example of economic development at its finest. An innovative concept in an innovative destination.
"It's a wonderful honor to receive this award," said Lisa Clarke, DMC EDA executive director. "DMC is unwavering in its commitment to providing an exceptional experience for Rochester residents and visitors. We are proud to be a collaborator with Experience Rochester and many other organizations in promotion of this great destination."
Experience Rochester also received some hardware at the conference, winning the "Special Projects" award for its website, minnesotasrochester.com.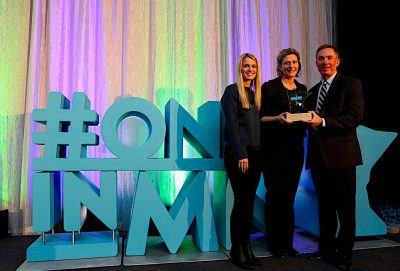 "We're honored to be recognized by our peers in the state tourism industry," said Mary Gastner, Experience Rochester interim executive director. "Our website is the number one resource for visitors. Our partnership, with Simpleview, allowed us to focus on creating a data-driven and personalized website. The new site allows guests to easily find what they are searching for and inspires exploration of our locally-owned businesses and Only-in-Rochester experiences."