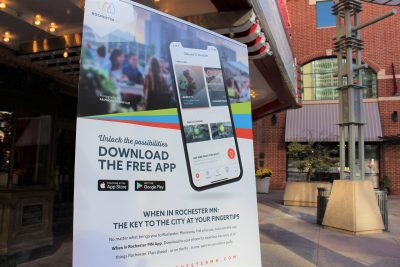 Experience Rochester, Destination Medical Center and Mayo Clinic announced the launch of a new mobile app, "When in Rochester, MN." The app is the result of a unique collaboration between three organizations focused on improving the experience for community members, visitors and patients.
"The When in Rochester, MN app is exactly the type of project we love to see in the Rochester community," said Lisa Clarke, Destination Medical Center Economic Development Agency executive director. "The partnership between our three organizations is what makes this app different than other apps in other cities. Our teams have taken the time to understand what our community members and visitors need while in Rochester – and developed an app for that."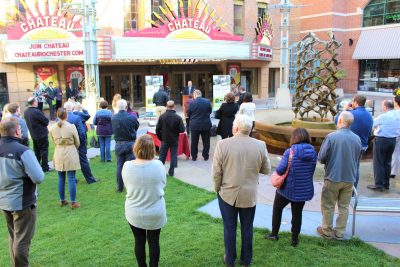 The app offers a variety of tools to navigate the Rochester community. Highlights include a calendar of local events and activities and a map of local restaurants and stores. It also provides guidance to Mayo Clinic patients visiting Rochester, including parking, transportation, and concierge services.  And, a unique feature is a "surprise me" button for fascinating city facts and must-experience attractions.
"We have over 3.5 million visitors who travel to our city for meetings, sports, and leisure," said Joe Ward, executive director of Experience Rochester. "This app allows us to provide essential information to those guests right when they need it – a critical experience gap that we had before today."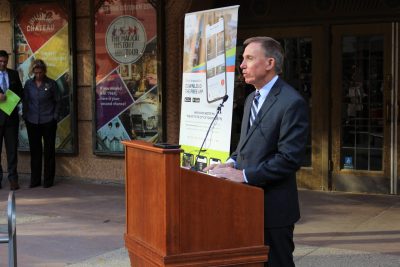 "We know that patients spend 30 percent of their time at Mayo Clinic for appointments," said Thomas (Tripp) Welch, vice chair for quality at Mayo Clinic. "The other 70 percent of the time they spend in the community.  We are excited to partner on this app because we know at the end of the day patients are looking for places to eat and stores to explore. When in Rochester, MN will help to enhance their experience."
"Rochester has accomplished a lot and this app is just another effort where this community is welcoming people from throughout the world," said John Edman, director of Explore Minnesota Tourism.
The app is now available to download on Apple and Android devices.