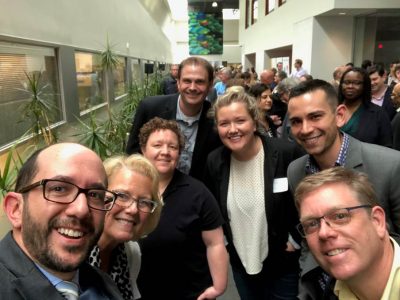 Rochester startup Phenomix Sciences is making strides in the personalized medicine space. This company, based on Mayo Clinic technology, is tackling obesity one patient at a time, and has made it to the semifinal round of the Minnesota Cup, the largest statewide business plan competition in the US, giving participants access to mentors, business education, and seed funding.
Forty percent of the US adult population is impacted by obesity. Current intervention treatments, such as drugs and surgeries, have a limited impact due to the high variability in disease cause. To address this, Phenomix Sciences is hoping to improve patient outcomes by introducing a blood test that will help predict an individual's response to a given therapy or treatment.
Phenomix Sciences is led by a strong core team with a unique blend of experience in the treatment of obesity and in launching startups. The company's technology, developed by Mayo Clinic gastroenterologist Dr. Andres Acosta, has been licensed to Phenomix for commercialization. Chief Operations Officer Ross Higgins has years of experience in the biotech and clinical laboratory space, most recently leading lab operations for Oneome, another Mayo Clinic startup. Industry expert Diane Dell'Armo serves as VP of Market Development after spending years launching products at Merck and the obesity therapeutics company Orexigen.
"Minnesota has some of the top businesses and talent right in our own backyard and Minnesota Cup has set up an amazing program that showcases startups like Phenomix," Higgins explained. "While there is potential outcome of non-dilutive capital, we are most excited for the opportunity to learn from a seasoned pool of mentors who will undoubtedly help take our business plan, pitch, and fundraising to the next level."
Higgins said that Minnesota Cup, which is free to all entrepreneurs, has been a very positive experience so far. Three finalists in each of the nine divisions will be selected by the end of summer. The overall grand prize winner will be announced in October.
Phenomix considers Rochester a unique city to build a business in because of the technology and talent coming out of Mayo Clinic. The startup has a lab facility in Saint Paul but is considering centralizing other pieces of the business in Rochester.
"The entrepreneurial future of the city will revolve around building a successful ecosystem that can support all sizes of companies with the talent, technology, and resources they need for business," Higgins said.