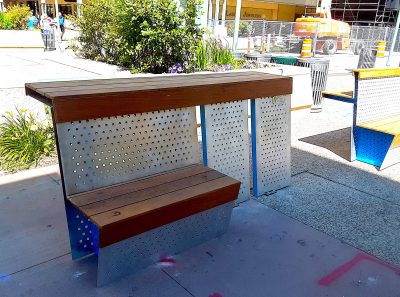 Prototyping is a way to inform designs before they're final. Over the years, you've seen DMC, the City of Rochester, and the Rochester Downtown Alliance prototype in multiple ways. From the Placemakers Prototyping Festival to the recent Community Couch and Flexible Fountain installation, each step has informed the next. Prototyping allows design teams the ability to react quickly to community feedback and to efficiently make modifications, with the end goal of creating a better design.   
This summer, DMC has been prototyping public benches – incorporating universal design – in and around the east side of Peace Plaza. The first installation of the bench prototypes was placed on Peace Plaza next to Primp. The Heart of the City design team sought initial reactions to the overall idea of the benches, their look and feel, and to learn how people use them.
The community used the benches in a variety of ways, standing and sitting while eating meals, using the lean bench for working, and having conversations. Strong feedback was received on the industrial look of the benches.  Some people wanted a softer, more approachable feel for public seating.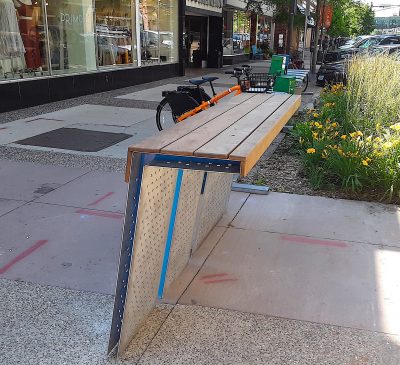 After a busy few weeks of modifying the Heart of the City bench prototypes, they will now be placed back onto Peace Plaza for phase 2 prototyping. The second prototype incorporates many of the suggestions provided by the community, including:
Adding wood to the seat and table/counter surfaces to provide a softer material to the touch

Adding color to the end panels to add visual interest and a more playful feel

Sanding the metal to smooth the edges of the joints and perforations
You can find the prototype benches on First Avenue in front of Primp. During the first prototype phase, the benches were set up in a way that encouraged conversation. During this second phase, you will notice that the benches are arranged differently – one faces the street, and the other faces the shops and the sidewalk. 
The design team invites you to stop by and check out the benches. A Heart of the City goal is to create seating that helps you get the most out of your public space and help make Peace Plaza a place where all will want to gather – community, visitors and patients. 
The design team would like to know what you think about the arrangement. When do you use them and why? How do you observe others using them? What are your thoughts on the new surfaces?  
Please send your comments to [email protected]