At the heart of every destination city is a vibrant downtown, where signature spaces, diverse programming, and enticing events encourage residents and visitors to linger a little longer.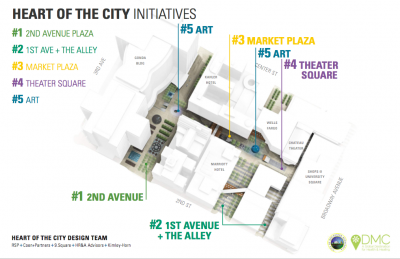 In downtown Rochester, the bold vision for the true Heart of the City is coming to life as designers unveil a new future for the Destination Medical Center (DMC) sub-district where residents and visitors come together to celebrate life, community, health, and wellness 365 days a year. 
From Discover and Dream to Design and Do
The Heart of the City Design Team recently unveiled plans for the much-anticipated core of downtown. Their forward-thinking vision for this integral part of the DMC district was received with excitement and anticipation by the DMC Corporation Board of Directors, the Rochester City Council, and the community at-large as they learned of the new plans for the sub-district.