Transportation is at the forefront of urban planning and growth, and Rochester leaders are exploring how to best meet the needs of all as the Destination Medical Center initiative continues to take shape.
Transportation goals for Rochester include moving 23-30% of the workforce downtown via transit by 2035, connecting downtown districts with a circulator, and creating a world-class place for regional transit arrival and departure.
By air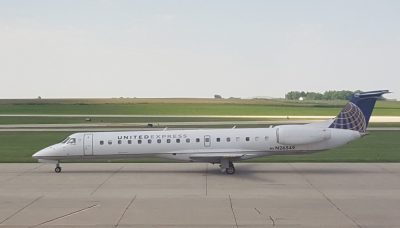 Rochester International Airport recently welcomed its first-ever United Airlines flight bringing the city another step closer to creating the high quality of service necessary to support the growth expected as a result of DMC.
The airport has also begun renovation efforts that include adding additional restroom facilities, combining its ticketing and baggage areas, and expanding its U.S. Customs presence. The work is expected to be complete in 2018.
In May, Mayo Clinic announced that employees who are traveling for work purposes must utilize the local Rochester airport rather than the Minneapolis-St. Paul airport, with a few exceptions. This "fly local" effort by the state's largest employer further emphasizes the importance of making travel in and out of Rochester as convenient as possible, especially as the city looks to a period of steady and rapid growth.
By land
Safe, convenient ground transportation in and around Rochester is also a critical component to the success of DMC.
"We need to ensure the final plan offers sustainable transit for everyone in the community," says Patrick Seeb, director of economic development and placemaking for the DMC Economic Development Agency (EDA). "Garnering public input continues to be key as we work to provide options from cars as primary modes of transportation to integrated options like biking, walking, and public transit."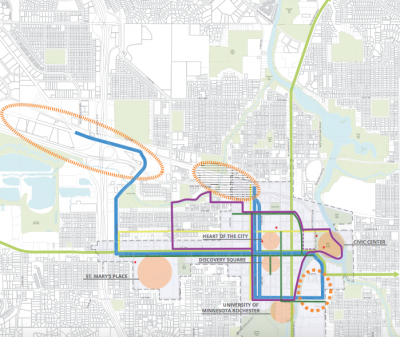 Transportation consultants are summarizing feedback received from the May 30 public input session and that which was submitted online.
"Feedback from the Open House will be shared with the Rochester City Council Committee of the Whole at the June 12 meeting," explains Beth Bartz, principal with SRF Consulting. The information will also be presented at the upcoming DMC Transportation Work Session of the DMC Corporation Board, the DMC EDA Board, the Rochester City Council, and the Olmsted County Board on June 14 to seek input about which of the three scenarios will be moved forward for further study. Then, over the summer, more detailed analysis will be conducted on the three scenarios, including projections about parking demand, transit ridership, construction and operation costs, and more.
Bartz says this analysis and a recommendation to move into more detailed engineering and planning will be presented to the public in late September. The Integrated Transit Studies are expected to conclude by late 2017 or early 2018.
Seeb – along with John Reed, executive director of the Rochester International Airport, and Aaron Reeves, assistant city administrator – will be a panelist at the June 23 "Community Matters: How Transportation is Changing to Meeting Community Needs" event hosted by the Rochester Area Chamber of Commerce.
Want to register for Community Matters? Click here.
Looking to learn more about the June 14 DMC Transportation Work Session? Click here.