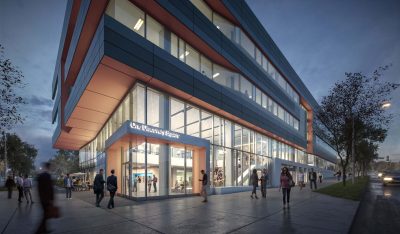 One Discovery Square was designed with collaboration in mind to support the acceleration and translation of the most promising health-related therapies and technologies. Mortenson has announced that the University of Minnesota Rochester (UMR) will be a new tenant in the unique, state-of-the-art facility in Destination Medical Center's Discovery Square, where doctors and researchers will explore innovative new discoveries and bring them to market – and ultimately to patients – faster.
UMR will join Mayo Clinic as an anchor tenant in the building and utilize its space there for hooded laboratories, learning labs, and collaborative space for faculty, students, and other building tenants to connect.
"Our mission as an innovative undergraduate health sciences university is greatly enhanced by our immersion in the Rochester community," says UMR Chancellor Dr. Lori J. Carrell. "Our presence in Discovery Square will enrich our students' experience."
UMR will be an important addition to the anticipated mix of tenants in the building. Their mission to promote learning and development through research, education, and outreach support priorities for the first phase of Discovery Square: to present opportunities for unparalleled partnerships. UMR students also will add an energy and vitality that will enhance the collaborative culture of the building.
"The University of Minnesota Rochester will be an invaluable asset to the dynamic mix of occupants we will see in One Discovery Square when it opens next year," says Chris Schad, Destination Medical Center Director of Business Development – Discovery Square. "Their tenancy offers significant opportunities to leverage the skills and talent of the leadership, faculty, and students to enhance the culture of learning, development, and discovery in this new space."
One Discovery Square is slated to open in 2019. To learn more about Discovery Square, click here.