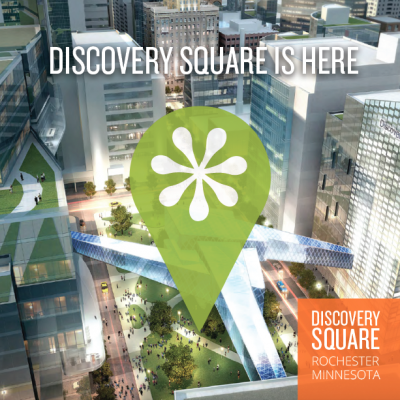 Mayo Clinic has officially launched its plan for Destination Medical Center's Discovery Square, an urban bioscience campus in Rochester where doctors, researchers, and scientists will come together to accelerate new advancements in medical research, technology, and patient care.
Mayo Clinic's announcement that it is on the hunt for a strategic real estate development firm to build out Discovery Square is a major milestone for the Destination Medical Center's (DMC) plan to enhance Rochester's reputation as the world's premier destination for health and wellness, and to create a robust entrepreneurial and innovation ecosystem that encourages start-up companies.
"We are going to grow what we think is going to be one of the best urban life science campuses in America," said DMC executive director Lisa Clarke at the BIO International Convention in San Francisco this week. "It's bold, it's big – it's so very exciting."
View Discovery Square announcement document (PDF)
The firm chosen to do the work will have a long-term relationship with Mayo Clinic and DMC, as DMC implements its 20-year plan to transform Rochester physically, economically, and culturally.
Mayo Clinic already has a strong reputation for doing game-changing research, with 1.3 million square feet of its campus already dedicated to research and product development. Discovery Square will expand Mayo's footprint by more than two million square feet over the next 20 years.
"At Mayo Clinic, we feel that we have a responsibility to bring forward discoveries that will deliver hope and better health to people around the world," says John Noseworthy, M.D., Mayo Clinic president and chief executive officer. "There is no better way to stimulate innovation than through collaboration, which has been part of the Mayo culture for over 150 years. We're looking forward to welcoming businesses, medical innovators, and researchers from around the world to Discovery Square."
DMC and Mayo Clinic officials were at BIO this week showcasing Rochester's opportunities for biotechnology and medical technology start-ups and meeting one-on-one with businesses that may be interested in relocating to Rochester.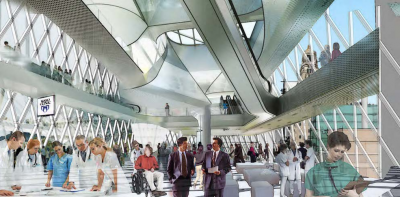 With Mayo Clinic at its doorstep, Discovery Square will bring together researchers, scientists, and entrepreneurs to address unmet patient needs in an ultramodern setting for science innovation.
Discovery Square not only complements Mayo Clinic's mission, but it serves as the economic engine for DMC as one of the largest drivers for job growth in Rochester. The six-block district in downtown Rochester will attract the best and brightest talent among medical innovators and researchers to the community, as well as additional private capital investment to Rochester and to the state of Minnesota.
DMC's role is to lead in the creation of the physical and cultural environment that is necessary for Discovery Square to succeed, says Patrick Seeb, DMC director of economic development and placemaking.
"The opportunities in Rochester are enormous," says Seeb. "Innovation is already happening here. With Discovery Square, it's only going to get better by allowing doctors, researchers, and innovators to assemble in an open, collaborative ecosystem where it is easy to share ideas and create new products."
With construction slated to begin in 2017, the first of several Discovery Square buildings is anticipated to be completed within two years.