New Mixed-Use Apartment Community to Open in Downtown Rochester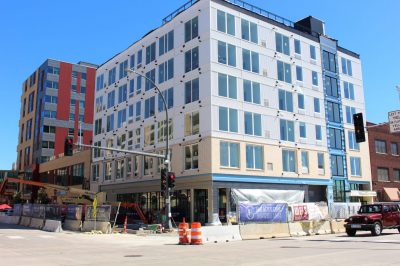 A new living option in downtown Rochester is ready to welcome its first residents. The HUE, a development of Minneapolis-based Ackerberg, officially opens Saturday, August 1, 2020.
The HUE, at the corner of 1st Avenue and 4th Street SW, features 50 residential units with a variety of studio, one-bedroom and two-bedroom floorplans. A rooftop deck on the 7th floor has grills, a firepit, and a 360-degree view of the city. The adjacent skyway provides easy access to Mayo Clinic, the Minnesota BioBusiness Center, and the rest of downtown Rochester's amenities.
"To be a part of this vibrant downtown neighborhood is exciting and beautifully complements the lifestyle we have created at The HUE," said Stuart Ackerberg, owner and CEO of Ackerberg. "We are excited for our residents to be able to simply walk out the front door to experience Thursdays Downtown, shopping, entertainment, restaurants, and nightlife."
The building also has retail space on the main floor, where Minnwest Bank plans to open its second Rochester branch.
The Ackerberg Group built The HUE in the core of downtown Rochester in order to be a part of the active, urban environment.
"The energy, growth, innovative contributors, and social scene all contribute to excitement that could not be ignored," said Ackerberg. "Destination Medical Center, together with Mayo Clinic and University of Minnesota Rochester create a compelling story in which we wanted to participate."
"We welcome The HUE, its future residents and the new MinnWest Bank branch to downtown Rochester," said Lisa Clarke, Destination Medical Center Economic Development Agency executive director. "While the impacts of COVID-19 are being felt nationwide, the completion of this downtown project will be a positive step toward building and maintaining a resilient Rochester."
The HUE is the latest of several new residential spaces in the DMC district. The HUE is currently scheduling tours and accepting applications for residents.