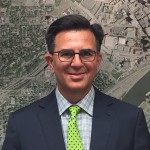 ROCHESTER, Minn. (August 12, 2015) –The DMC Economic Development Agency (EDA) today named Twin Cities' leader Patrick Seeb as its Director of Economic Development and Placemaking. He joins a newly formed team of professionals who will build Rochester as the destination for health and wellness. Seeb has served as Executive Director of the Saint Paul Riverfront Corporation for the past 20 years.
"Our goal was to find someone with a strong record of success in creating major private-public investment and Patrick comes to us with more than 30 years of stellar leadership experience," says Jeff Bolton, Chair of the DMC EDA Board.
Destination Medical Center is a one-of-a-kind, $5.6 billion development initiative in Rochester, Minnesota. It is the largest public-private partnership in state history, designed to position Minnesota as a global center for the highest-quality medical care and to generate high-value jobs, new tax revenue and businesses.
Says Lt. Governor Tina Smith, Destination Medical Center Board Chair, "Patrick's proven record of partnership and collaboration in Saint Paul's transformation will be an enormous benefit to the DMC as we move from vision to implementation."
Starting Sept. 1, Seeb will be actively working to attract new investment to Rochester, consistent with the DMC vision while meeting the expectations of patients, as well as city visitors, residents and employees of Mayo Clinic.
"Patrick's leadership in developing the Healthy Cities Design initiative in the Twin Cities is consistent with DMC vision of creating a global destination for health and healing," says Lisa Clarke, Executive Director of the DMC EDA. "Our ability to bring someone of his experience, reputation and stature speaks highly of the opportunities being created in Rochester."
At the St. Paul Riverfront Corporation, Seeb was responsible for the creation and development of an organization that has shaped, catalyzed, and organized more than $4 billion of new investment in St. Paul.
Seeb also served as President of Grand Excursion, a four-state initiative designed to educate the region about the Mississippi River and create the next generation of river stewards. Prior to this he was Deputy Chief of Staff to Mayor Norm Coleman of St. Paul. He began his professional career as a Registered Nurse, where he spent 15 years in   management, clinical services, and consulting.
Seeb says, "The opportunity to help position Minnesota and Rochester on a regional, national and global scale is a challenge that I am excited to help bring to reality. I look forward to becoming an active member of this vibrant community."
The EDA is finalizing other key staff positions and building out its street-level office space located downtown to provide visibility and easy access to those who have business with the EDA. The EDA offices will occupy a ground-level location in the Rosa Parks Pavilion at 195 South Broadway and staff will move to the new location in September.
The Destination Medical Center (DMC) Economic Development Agency (EDA) is a non-profit agency that contracts with the Destination Medical Center Corporation (DMCC) Board of Directors. The DMC EDA works with the City of Rochester, the DMCC and other stakeholders to develop and implement the DMC plans and strategy. For more information about DMC, visit www.dmc.mn.
###