We love where we live. DMC will make sure of it. Small-town vibe. Big-city amenities. Rochester is a vibrant urban center for people to live, work, and play, full of entertainment, arts, and culture. Plus, it's easy to get around with safe, walkable streets, a network of bike trails, and efficient public transportation. In fact, the average commute time to work is only 15 minutes. Add in the fresh, local foods, quaint neighborhoods, and job opportunities, and you've got an ideal place to call home.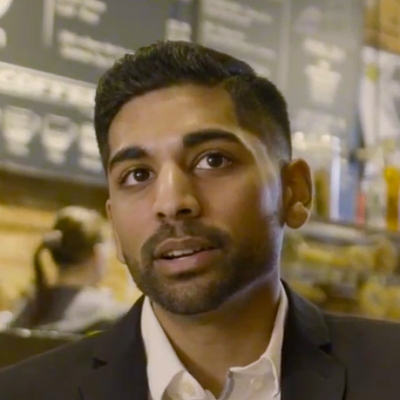 To help illustrate the many ways individuals are transforming Rochester, DMC has created a video series called "DMC Rochester, MN Storyteller Videos." These snapshots of forward-thinking people and approaches showcase the opportunities that exist in Rochester as DMC sets in motion a new future for America's City for Health.
In the Middle of Community 
Sankesh "Sunny" Prabhakar was born and raised in Rochester, Minnesota. His parents immigrated from Sri Lanka to Ohio in 1980 and then to Rochester in 1984 when Sunny's father got an engineering job with IBM.
Today, Sunny works for Honeybear Marketing, a family-owned business in Elgin, just outside of Rochester, but he is most notable for his role in founding and championing a local young professionals group called The Commission, which focuses on making a positive impact on Rochester through relationships, mentorship, and development.
"Community is vital to the success of the Destination Medical Center project," Sunny says. "Multiple groups have surveyed stakeholders on what makes Rochester great and the response is always the same – the people."
Community support of initiatives like DMC will greatly enhance its opportunity for success. "We, as a community, are the ones who will interact with what is being built in the 20-year DMC Development Plan," Prabhakar says, "and we are the ones who will be making the visitors and patients feel welcome."
Prabhakar has seen the energy behind the DMC initiative spur a newfound innovative and creative spirit in the people of Rochester. "DMC is giving community members the boost they need to experiment and try new things," he says. "Rochester is a blank canvas. We get to determine what our city will look like over the next decade and beyond, and it all starts right now."
Watch the DMC, Rochester, MN Storyteller Video and learn more from Sunny Prabhakar about how community is transforming America's City for Health.