The Destination Medical Center Corporation (DMCC) Board of Directors has approved public infrastructure funding of four new downtown Rochester development projects.
The DMC funding of $11.82 million supports $342 million in new investment, that includes waterfront development, Heart of the City redevelopment, and new hotel concepts. The projects will result in the creation of more than 450 new, permanent jobs and nearly 600 construction jobs.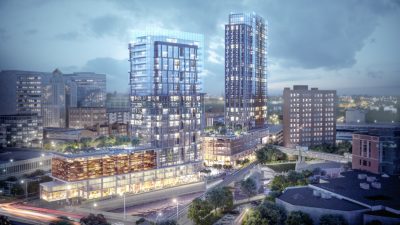 The projects include:
Bloom Waterfront Development: $230 million multi-tower, mixed-use development in the downtown waterfront sub-district;
21 1st Street SW Development: $26.5 million redevelopment of Wells Fargo Center in the Heart of the City sub-district;
Holiday Inn Downtown Rochester Development: $41.5 million redevelopment of the existing 173-room Holiday Inn Downtown Rochester property and converting it to a Hotel Indigo; and
Hyatt House Development:  $44 million hotel development of an under-utilized street corner and gateway into downtown Rochester and the Mayo Clinic medical campus.
Final approval for the four projects is required by the Rochester City Council.
"The promise of Destination Medical Center is beginning to pay off in jobs, innovation, and vitality," said DMCC Board Chair R. T. Rybak. "Destination Medical Center is clearly creating market opportunities for developers and investors from Minnesota, in the U.S., and internationally."
Other action by the DMCC Board included acceptance of the integrated transit studies final report with additional studies.  DMC EDA and City of Rochester staff will prepare a phased implementation plan for the DMCC Board's consideration in September.