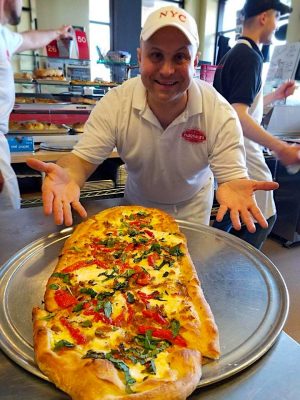 After celebrating two years in business, Pasquale's has embodied the neighborhood pizzeria feel in downtown Rochester, ranking as the number one best restaurant on TripAdvisor and the number one best pizza on TripAdvisor and Yelp.
As a food entrepreneur located in the Destination Medical Center (DMC) Discovery Square subdistrict, restaurant owner Pasquale Presa aims to maintain a position at the forefront of the local culture.
Presa was trained at the Culinary Institute of America in New York and came to Rochester in 2011. Community has always been of high value to him. The number one aim of his New York-style pizzeria is to provide great service and delivering a quality product. But the experience people have in the restaurant, that feeling of home is of equal importance to Presa.
"We have a tradition. We exemplify how we were brought up and how we are a part of family and part of a community," says Presa. "To me, it's very important to be so involved, to embrace change and step out of our comfort zone."
With new developments, including a mix of luxury apartment homes, commercial space, and direct access to recreational trails, Pasquale's exemplifies the "live, work, and play" environment of Discovery Square.
Presa said he's honored and thankful to be located in Discovery Square. He continues to do his part to stay educated and involved in DMC developments.  He and his investment partners hope to grow with the neighborhood. His restaurant is across the street from the new apartments Urban on First, expected to open this summer, and one block south from the One Discovery Square Life Science Center, with a planned spring opening.
"This is a good place to be," adds Presa.