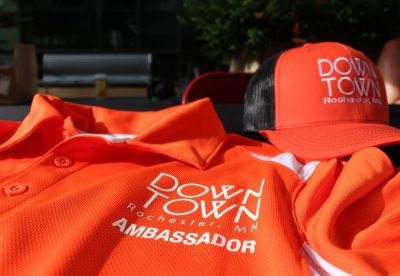 There is a new crew of friendly faces in bright orange shirts keeping downtown Rochester a clean and safe place to live, work, and play. The Rochester Downtown Alliance's (RDA) Clean and Safe Ambassador program launched July 1, 2020.
Clean Team Ambassadors provide daily services within the Rochester Downtown Alliance's 44-block special service district, including sanitizing high touch areas of public spaces, power washing sidewalks, picking up litter, pulling weeds, and removing graffiti. They are also available to assist the public by answering questions and providing directions.
Ambassadors will be receiving training on public safety, local social services, local history, and other relevant topics as the summer progresses.
"This program would be a valuable asset to Rochester any year, but we see our Clean and Safe Ambassadors as offering particularly relevant assistance to downtown Rochester in the face of challenges presented by 2020," said Holly Masek, RDA executive director. "Ambassadors will provide a sense of safety and confidence with visible cleaning services, walking patrols, and will also offer a friendly face to guide visitors through construction and to our businesses."
All Ambassadors are employees of Block by Block, the national vendor selected to operate the program. The same vendor has offered similar programs in downtown Minneapolis and downtown Duluth.
"I've been doing training with the Ambassador program up in Minneapolis for the past 10 years and have always felt this program would be a great asset for downtown Rochester," said Tom Claymon, downtown Rochester's Clean and Safe Ambassador Program operations manager.
As the team becomes established in Rochester, they will begin adding hospitality, livability, and safety program services, including business check-ins and evening walking patrols.
The Clean and Safe Ambassador Program is supported by the RDA's special service district members, as well as additional funding from Destination Medical Center, Mayo Clinic, and the City of Rochester.