You are invited to attend the Discovery Square: Phase One Community Open House and Project Presentation on Tuesday, July 18.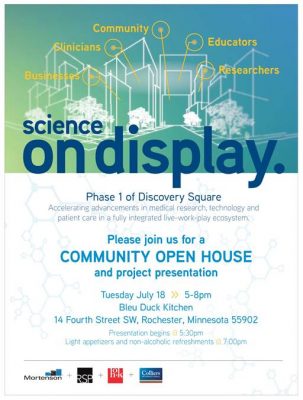 Jeremy Jacobs, Development Executive with Mortenson, says the open house will be the first opportunity for the developers and designers to engage the community about the work being accomplished for Phase 1 of Discovery Square.
"We recognize that what we are building will be part of the fabric of the community and the DMC District for decades to come," Jacobs says. "We will share information about the philosophy, design, and what we hope to achieve, then gather feedback from attendees."
Jacobs says the event will also present an opportunity to introduce the project team. "We want to let people get to know those of us working diligently behind-the-scenes on this project that will affect the entire community."
Tuesday, July 18 | 5:00-8:00 p.m.

Presentation: 5:30 p.m. | Light appetizers and non-alcoholic refreshments: 7:00 p.m.