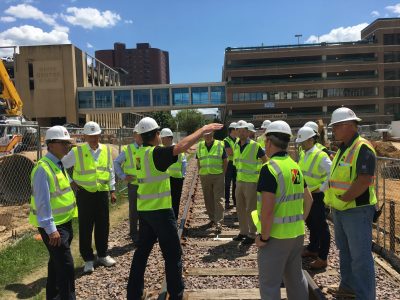 DMC leaders recently accompanied developers at Rochester's Titan Development & Investments and Harbor Bay Real Estate Advisors on a hardhat tour to take in the progress on the 19-story Hilton Hotel being built at the intersection of Broadway and Center Street in downtown Rochester.
The project is a public-private partnership and one of the first to receive DMC funding. Currently, there are up to 80 employees on-site daily and is expected to reach more than 250 per day as progress continues.
"It was great to see firsthand how far along the project has evolved," says Lisa Clarke, DMC Economic Development Agency's executive director, who took part in the tour. "Projects like this are important as DMC evolves."
The facility will offer street-level dining and retail spaces and feature 265 rooms, two grand ballrooms, a conference center, five-star dining, a full-service spa, and convenient underground parking.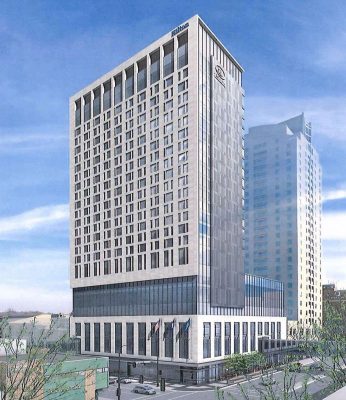 The hotel was specifically designed to accommodate a diverse demographic of travelers, whether they are patients at Mayo Clinic or visiting Rochester on business. It will also provide unique services to meet the needs of medical clientele with designated spaces for in-building blood draws, access to Mayo Clinic, and rooms with special amenities.
"Features like these," Clarke says, "reinforce how our entire community is seeking ways to ensure Rochester is a true global medical destination."
The hotel is expected to open in 2019.
Check out the DMC Sub-Districts Development Map to learn more about the progress taking place throughout the District.