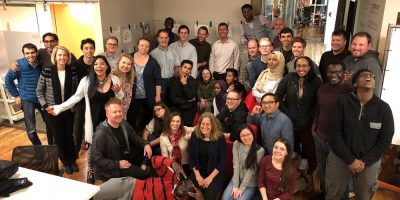 Startup Weekend Rochester, October 26 – 28, 2018, offers an excellent opportunity for would-be entrepreneurs to learn how to take an idea, evaluate it, talk to potential customers, prototype, and pitch – all in 54 hours.
"If you are thinking about starting a new business or want to learn tips and tricks to apply to your job or schooling, there is no better place to learn," says Jamie Sundsbak, Startup Weekend Rochester organizer.
Startup Weekend begins on Friday night when ideas are created and teams are formed to push forward the top business concepts. On Saturday and Sunday, teams refine their startup ideas and obtain customer feedback from the community. Startup Weekend culminates with Demo Night, where teams pitch their business ideas to a panel of judges for the chance to be named the overall winner of Startup Weekend Rochester.
"Startup Weekend is for anyone seeking to learn more about entrepreneurship and the innovation process regardless of age, experience, or background," Sundsbak says, adding that no prior ideas are required. "This is a time to learn, experiment, and create. Startup Weekend is a fast-paced, low-risk taste of entrepreneurship."
It's also an opportunity to meet like-minded people and build something together. Participants receive coaching from local business experts throughout the weekend and obtain valuable pitch feedback from a panel of seasoned judges, all in a collaborative, encouraging environment.
"We need to continue to build our entrepreneurial ecosystem in Rochester, and events like Startup Weekend Rochester are critical to inspire our local risk-takers to start something new," explains Chris Schad, Director of Business Development for DMC's Discovery Square.  "While we work to bring new companies into Discovery Square from around the country and the world, it is vitally important that we also grow new businesses with the talent right here in Rochester and the region."
Startup Weekend was developed by Techstars, a global startup accelerator program that helps entrepreneurs succeed. Startup Weekends have taken place in 150 different countries and have led to the formation of over 23,000 teams. This is the third Startup Weekend Rochester and has traditionally involved a diverse cross-section of the Rochester population.
The 2018 Rochester Startup Weekend will take place Friday, October 26 through Sunday, October 28 at Collider Coworking. Click here for more information and to register.