(Rochester, Minn.) May 5, 2023 – Destination Medical Center Economic Development Agency and the City of Rochester are thrilled to announce the graduation of the first cohort of Community Co-design Facilitators. At a ceremony at City Hall on May 4, seven Rochester residents were recognized for their time and effort toward the advancement of the co-design process.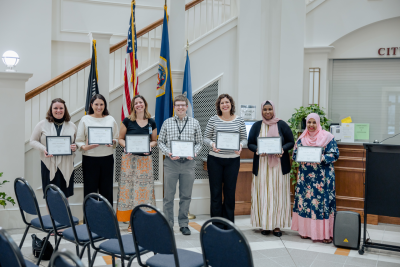 "How are we, as a community, going to compete in the future? How can we be more resilient? We will be able to do those things because of co-design," said Cindy Steinhauser, deputy city administrator. "Community co-design is not just a DMC initiative or a City of Rochester initiative. This is an initiative for government, non-profits, and the private sector as well."
The seven co-design facilitator graduates are Fatuma Ahmed, Khadija Ali, Shay Baumbach, Lida Casper, Derrick Fritz, Julie Ruzek, and Claudia Tabini.
"I am very excited to be recognized as a co-design facilitator. I look forward to helping include diverse voices in future projects and initiatives," said newly graduated facilitator Khadija Ali. "I have always been on the co-designer side, but now I will be able to recruit people and facilitate these sessions."
A second cohort will be launched in the summer of 2023 and a third cohort will be held in late 2023 or early 2024.
The evening also saw the unveiling of a webpage dedicated to co-design in the Rochester area. On the page is information on upcoming leadership and facilitator trainings, as well as access to the Co-Design toolkit and case studies from several successful co-designs. The page can be found at www.rochestercodesign.com. You can learn more about Community Co-design by downloading the Community Co-design Toolkit.