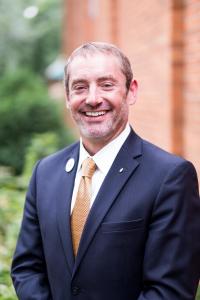 The United Way is a community change organization that unites people in need with the resources they need to reach their full potential.
Jerome Ferson has been leading that change at the United Way for just more than four years. DMC sat down with Ferson to learn more about his goal of achieving education, health, and financial stability for every person, especially those most in need.
DMC: What path brought you to your current position with the United Way?
Ferson: I began my involvement with United Way nearly 30 years ago as a donor and volunteer while I was employed at the Post-Bulletin. As my career in newspaper journalism took me from Rochester to around the country, I was fortunate to remain involved as a donor and volunteer with the United Way in each community I lived in.
As I entertained the idea of a career change, exploring possibilities within the United Way network quickly rose to the top of my list. I was fortunate that while I was evaluating options, the opportunity to lead the United Way here in my hometown became available. One thing led to another and today, I am privileged to serve in my current capacity.
DMC: What are some of the top priorities for the organization in the coming year?
Ferson: We are currently in the process of our annual campaign to create impact. This year, more than 120 local employers are conducting an employee giving campaign as part of the effort, as well as thousands of individual contributions. It's wonderful to see how the community pulls together to improve lives. The needs are greater than our resources, so of course, we invite everyone to get involved.
Other initiatives include:
Providing grants to area nonprofits to help improve conditions in the areas of food security, neighborhood engagement, housing stability, early success, independent living, connections, and strong foundations;
Active involvement in Cradle to Career, a community-wide systems change initiative to improve educational outcomes and eliminate disparities; and
Exploring the implementation of a neighborhood-based initiative that seeks to unite residents with community resources, identify shared barriers, co-create potential solutions, and then, together, pursue resources to help implement changes.
We are also working to broaden our reach into the community, expanding our resource base and amplifying our impact.
DMC: What do you feel sets Rochester apart from other cities?
Ferson: Rochester is a community nestled in a region of significant natural beauty, and it offers a rich confluence of the traditional family and cosmopolitan values and amenities, without all the congestion associated with larger metropolitan areas. It also has a rich tradition of being a caring, collaborative community, going all the way back to the tornado of 1883. 
DMC: Why is the Destination Medical Center initiative so important to the future of Rochester?
Ferson: The long-term health of our community and the individuals and families it is comprised of is inextricably intertwined with the vitality of our economy. Mayo Clinic and the health care sector make up a significant share of our local economy; it is also a very competitive sector globally that is undergoing significant disruption. Mayo Clinic has built a strong worldwide reputation that is a community asset which can't be taken for granted and will require an increase in community focus to sustain in the future. This is why the Destination Medical Center initiative, and more importantly its success, is so important to the future of Rochester.
DMC: What advice would you give to someone thinking about building a life, starting a career, and/or raising a family in America's City for Health?
Ferson: Get involved early in helping your community progress and develop. Volunteering offers a great way to learn about the community and its culture, to get to know others, and tap into the caring energy that exists here. There are so many different ways to do so and a good place to start is to visit Get Connected, a volunteer portal made available to the community through United Way of Olmsted County. It is the most comprehensive database of volunteer needs available and is continuously updated by nonprofits throughout the area. Live United!