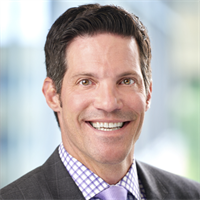 As president & CEO of The Medical Alley Association (MAA), Shaye Mandle has been instrumental in MAA's focus on championing and facilitating an environment that enables health technology and care organizations to innovate, succeed, and influence the evolution of healthcare. Under Mandle's leadership, the association's vision to elevate Minnesota's Medical Alley as the global epicenter of health innovation and care is coming to life.
This summer, Mandle and Medical Alley will bring their signature networking and education event, Alley Chats, to Rochester. Alley Chats brings people together to make new connections, hear what's happening with Medical Alley, and strengthen the fabric of the most innovative healthcare community in the world.
We sat down with Mandle to learn more about how DMC is helping to change the model of healthcare leadership worldwide and why he feels it's such an exciting time to live and work in Rochester.
DMC: What path brought you to your current position with Medical Alley?
Mandle: I was thrilled to be given the opportunity to lead and reshape Medical Alley (MAA) in 2014 and I believe that the diverse experiences I've had throughout my career provided a unique lens to view healthcare during a time of great change. I've practiced law, led public/private organizations, done corporate business development, overseen a university technology commercialization operation and worked for a Governor and U.S. House Speaker.
DMC: What are some of your top priorities for the organization over the next year?
Mandle: MAA is focused on delivering the one organization that brings together leadership from every sector of healthcare. Our top priorities are to drive the transformation of Medical Alley to represent the global epicenter of health innovation and care and to empower our organizations to play a leadership role in defining the evolution of healthcare. We're targeting initiatives that accelerate the shift from volume to value and that will provide robust support for the early-stage healthcare ecosystem.
DMC: What do you feel sets Rochester apart from other cities?
Mandle: Rochester is truly a unique and special city. Besides being regularly listed as one of America's best places to live and home to the world's #1 hospital, Mayo Clinic, Rochester is on a path to creating a center of excellence in healthcare that encompasses everything from research and commercialization to defining the solutions necessary to change the model of health and wellness.
DMC: Why is the Destination Medical Center initiative so important to the future of Rochester and the state of Minnesota?
Mandle: DMC is the most progressive and substantive large-scale economic development initiative that I've seen in my career. DMC will ultimately help to define Rochester in a way that no other city has been, and the structure of DMC will ensure that this future is shared between healthcare leaders and the citizens of Rochester and Minnesota. The opportunities are endless, and the DMC provides for the opportunity to fund the right projects and to grow Rochester in a targeted and sustainable manner while delivering to the world the model for healthcare leadership.
DMC: What advice would you give to someone thinking about building a life or a business in Rochester – America's City for Health?
Mandle: Do it now! Rochester will continue to draw eager entrepreneurs, top healthcare practitioners and researchers, and new opportunities. It's such an exciting time to be in Rochester and to be part of building this community's future – why miss all the fun by waiting?