With Destination Medical Center at the core of driving business, new development, and growth in Rochester and the region, employers are on the hunt for talent.
Now, your go-to resource for all things workforce is only a click away. Hubsource, an online tool developed by the Rochester Area Chamber of Commerce, connects job seekers with openings in southeast Minnesota and provides a convenient way for local businesses to reach national talent. It is free for Rochester Chamber members and offers a hassle-free way for individuals to find real, relevant jobs throughout the region.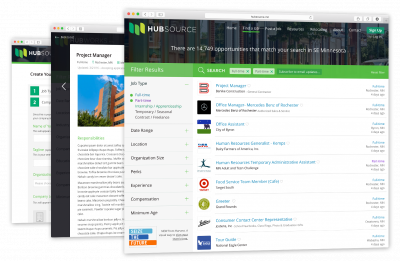 "Hubsource can help employers tell their unique story and find employees that are the best fit for their organization," said Kathleen Harrington, interim president of the Rochester Area Chamber of Commerce. "This tool will play a critical role in attacking the workforce shortage issue we face today."
"Rochester and this region are recognized for attracting a talented and committed workforce," notes Lisa Clarke, DMC Economic Development Agency executive director. "I often hear about Minnesota talent having a strong work ethic. The Chamber's new Hubsource tool is a great new resource for interested job seekers all across the nation to find that perfect job, in a growing, dynamic city."
The Hubsource tool contains a job board, resource portal, company culture pages, and an applicant tracking system to make job searching and hiring as easy as possible.
Hubsource features let users post an unlimited number of jobs or internships, customize job application questions, and create a unique company profile page that can help attract qualified job seekers to their respective organizations. Hubsource also offers workflow tools to help users filter applicants, navigate the interview process and makes it easy for applicants to share interesting jobs on social media.
For more information and to register your organization with Hubsource, contact Sam Gill at [email protected].