Mayo Clinic has been identifying and addressing community health issues, such as mental health, immunizations, and obesity, for decades. This year, they're asking you to get involved.
The Mayo Clinic Shared Value Award was created in 2016 to help solve some of the unique community health needs of Rochester and Olmsted County as well as to encourage collaboration among local groups. Up to $50,000 is given annually to a partnership of three or more organizations who are working together to improve health and vibrancy in Olmsted County. In past years, award winners were chosen solely by Mayo Clinic, but this year's award will be chosen as part of a community-wide vote.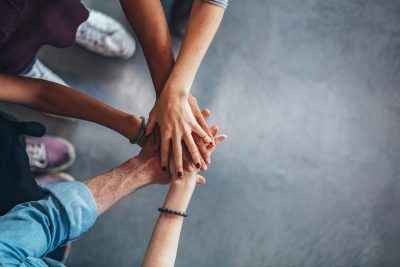 "There are many reasons why we wanted to open up the voting to the community," explains Erin Sexton, community relations director for Mayo Clinic. "The most important reason is we want to make this decision with our community. The community came together to identify the communitywide health priorities, and it makes great sense that we should come together again in support of a collaborative project that helps to address those priorities. We also hope to inspire more people and organizations to get involved in these kinds of collaborative efforts to address complex issues."
In 2016, the Shared Value Award was given to a collaboration of five local groups committed to addressing local mental health issues. Mental Health First Aid (MHFA) trains individuals to become mental health "first responders" and ensure people experiencing mental health crises receive assistance as quickly as possible.
In 2017, a collaboration of organizations dedicated to addressing obesity and financial stress received the honor. According to Beth Sherden, executive director of the Minnesota Children's Museum in Rochester and spokesperson for the 2017 project, "Eat, Play, Grow" is inspiring local children and their families to eat healthier foods and exercise more in response to obesity. Sherden says the award also opened new pathways for communication and partnership among organizations serving children. "The Shared Value Award inspired new relationships with other nonprofits, businesses and community members," she says. "This helps better serve children and families now and into the future."
Finalists competing for your vote to win this year's 2018 Mayo Clinic Shared Value Award include:
Eviction Prevention: Legal aid helps families stay in their homes
For many families, paying one big, unexpected bill can mean the rent doesn't get paid on time. Under Minnesota law, a landlord can file an eviction notice the first day the rent is late. Olmsted County District Court deals with approximately 350 eviction cases per year.
Healthy Families Thrive: Making immunizations less stressful at the Minnesota Children's Museum
There are many reasons some families in Olmsted County miss out on recommended vaccinations for their children. For some, parents don't know where to find free or low-cost vaccinations. For others, there's the scary factor. The stress and worry around vaccinations can contribute to families falling behind on vaccinations.
Rochester Speaks: Opening doors to mental health treatment options
Rochester Public Schools in collaboration with the Olmsted County BRIDGE Collaborative hosted a Student Speak forum in 2018 to hear students' views on mental health treatment. The message: The stigma of depression and anxiety is decreasing. But, there's still a high level of stigma associated with receiving treatment.
Click here to learn more about the solutions, anticipated impact, and partners involved in each of these important projects and cast your vote before the end of August.