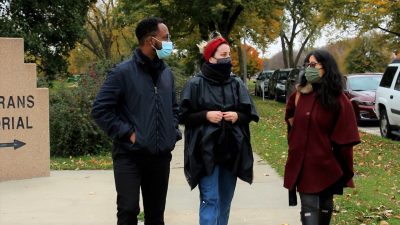 With a shared current hometown and life experiences spanning the globe, Sophia Chai, Zoe Cinel, and Ayub HajiOmar – the trio of artists creating installations for Destination Medical Center's Discovery Walk – are poised to enrich Rochester pedestrian life in surprising ways.
Chai, Cinel and HajiOmar were selected after a call for Olmsted County artists to be a part of the Discovery Walk design team. The artists will help integrate art at a civic scale into the design of the planned linear parkway along 2nd Avenue SW that will connect Soldiers Field to Annenberg Plaza in downtown Rochester.
"Integrating community art is an important part of creating vibrant public space," said Patrick Seeb, DMC Economic Development Agency director of economic development and placemaking. "Ayub, Sophia and Zoe will bring diverse experiences and also the unique perspective of the Rochester community to the design of Discovery Walk."
Sophia Chai knows the power of unexpected art encounters. She moved to New York City from Korea when she was 14, and while exploring the city in high school, stopped into a Guggenheim satellite location. Inside, she encountered a Robert Rauschenberg work that inspired her path to artistry.
She'll be able to pay that energy forward in a personal way; her husband works in a building along Discovery Walk.
Chai uses photography and geographic shapes to explore feelings of contradiction and confusion. Perception is also central to her work, which ponders, "how art can offer an experience for people to have heightened awareness of seeing and knowing," says Chai.
As a curator at the Rochester Art Center, Zoe Cinel, originally from Florence, Italy, is also fascinated by art's potential to create experiences.
"I want my art to provide an entry point for people to connect," she says, "and connect with the history and geography of this place."
Cinel moved to the Twin Cities in 2015 and got her master's degree at the Minneapolis College of Art and Design. After moving to Rochester during COVID-19, forging connections takes on new urgency.
She's found inspiration in the Franklin heating station and the Zumbro River, which she thinks could serve as a reflection of the downtown ebbs and flows of patients, doctors, and others. It also makes her think of global migration, which brings her back to a desire to connect people.
Those kinds of connections are something Islamic contemporary artist Ayub HajiOmar's work might also seek to create. His work seeks to bridge gaps between the misunderstood and those who try to understand them. He takes on issues like immigration crises, racial injustice, religious misunderstandings, and climate change, frequently using elements like gold lettering or glossy finishes to attract viewers' eyes.
HajiOmar brings a long-term, local perspective to the Discovery Walk project; he was raised in Rochester, graduated from Century High School, and later started a family here. The opportunity to show his art on Discovery Walk is one he takes seriously.
"It's a great responsibility that I don't take lightly," he says, "To try and be a voice for those that are not being heard."
Discovery Walk is currently in final design development.