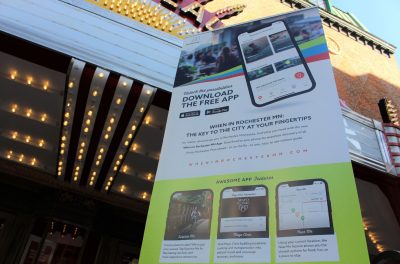 Downtown Rochester is home to a wide variety of activities for residents and  visitors to see and do year-round. Here are three resources to help you navigate downtown Rochester.
When in Rochester, MN App
When in Rochester, MN is a free mobile application that features a variety of tools to navigate the Rochester community. It has a calendar of events and an interactive map of local restaurants and stores. Another feature includes a guide for Mayo Clinic patients visiting downtown Rochester, with parking and transportation resources. Users can find local activities based on their location or a specific category. Users can also search for specific places and bookmark ideas to return to at a later date.
Experience Rochester, Destination Medical Center, and Mayo Clinic launched the app in 2019 to improve the experience of community members, visitors and patients. The app is free to download on Apple and Android devices.
Downtown Rochester Eat. Shop. Stay. Play! Map
The Downtown Rochester Eat. Shop. Stay. Play! map provides a list of downtown destinations based on categories of restaurants, activities, shops and services. The map shows where those destinations are located in relation to area hotels and landmarks. It also provides important phone numbers and websites for additional resources, including Mayo Clinic concierge services and Experience Rochester. Download the map here, or find a paper copy in downtown Rochester businesses, hotels, and at the Experience Rochester information booth at the west end of Peace Plaza.
Shrpa
Shrpa is an online platform that shares ideas for local activities and entertainment. "Shrpas," or guides, regularly publish self-guided adventures centered around a theme or location. The adventures include itineraries for family day trips, date nights,

outdoor activities and more. In addition to the itinerary, the shpras share directions to each destination, a list of things to pack, and other tips to make each adventure a memorable experience. The trips are mostly based in Southeastern Minnesota and the surrounding regions. You can find the adventures at shrpa.com or on its Facebook and Instagram pages. Shrpa also has a segment on KTTC-TV featuring a new adventure each week.
Rochester entrepreneurs Chris Lukenbill and Andy Vig created Shrpa in 2019. It was recently named the Most Innovative Greater Minnesota Startup at the Minnesota Cup.