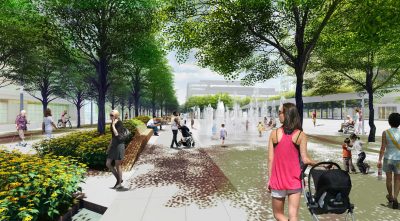 The Rochester City Council has approved plans to move forward with design development, engineering work and construction bidding for Destination Medical Center's (DMC) Discovery Walk, a five-block linear parkway along 2nd Avenue SW in downtown Rochester that will serve pedestrians as well as vehicle access.  The design process is led by Coen+Partners.
Discovery Walk will connect Annenberg Plaza to Soldier's Field Park and serve as an extension of the Heart of the City public realm project. It will create a high amenity pedestrian experience while also maintaining flexibility for bike and vehicular access, civic events, and future development.
Located within DMC's Discovery Square innovation sub-district, the parkway will also contribute to the vitality of the area, adding recreational opportunities to a region that has in recent years attracted an increasing number professional and residential developments as well as entrepreneurs and companies in the medical, technology and bioscience fields.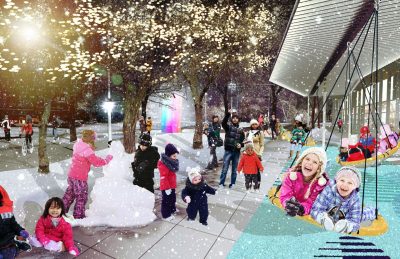 "Having flexible public spaces with resilient design is more important than ever as our community responds to the continued impacts of COVID-19," said Patrick Seeb, DMC Economic Development Agency director of economic development and placemaking. "Discovery Walk will be a place for Rochester residents, patients and visitors to safely socialize and feel welcome."
"This is part of what DMC is all about, it's recreating our downtown, making it more sustainable, walkable, livable—a city of the future," said Rochester Mayor Kim Norton. "Additionally, it connects our downtown to Soldiers Field in a way that brings the park into the downtown in a thoughtful and fun way."
The bidding process for the construction of Discovery Walk is expected to begin in 2021.