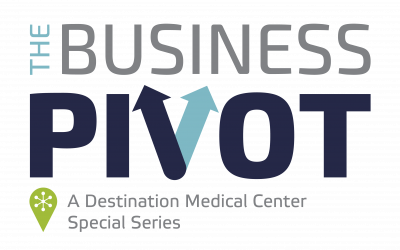 The Business Pivot, a blog series from Destination Medical Center (DMC), features local small businesses that are pivoting not just to survive, but to thrive in the current economic environment. These businesses are helping Southeast Minnesota continue to access products and services while also making a difference in the community.
Walter Hanson, Co-Owner
DMC: What challenges are you facing during the COVID-19 pandemic?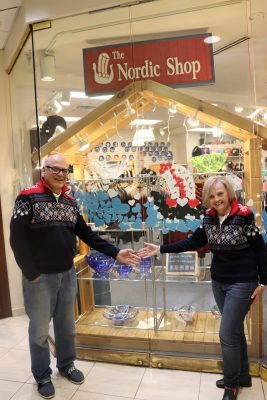 Hanson: We are a small specialty store that opened in Rochester in February of 1974 and has been through all the ups and downs during that time.  We have made it through the Great Flood, several depressions, the ".com" collapse, 9/11, and now we are working our way through the COVID-19 challenge.
We have always looked at each of these as opportunities to grow our business and to adapt to the level of reality.  Early in our history we realized that we saw our Mayo customers once a year and wanted to continue to market ourselves to them throughout the year.  That led us to start doing mail order.  That was in the mid 1970s where cut and paste were physical actions that would in later years become keystrokes.  Over all those years we have moved from photographing and physically laying out all of our catalogs, ads, and TV commercials to being able to do all of them digitally.  We have also gone from placing ads in regional issues of national magazines to doing most of our marketing on digital platforms along with TV and targeted print ads.
DMC: How is your business responding to those challenges and innovating?
Hanson: When COVID-19 arrived we were already one of the largest and oldest of the Scandinavian stores in the U.S.  But when faced with totally shutting our store doors for 10 weeks that caused us to look back at how we have gotten to where we are now and we started reworking our website, upgrading our Data Management Software, and taking a deeper look at the "wealth of opportunities" for advertising in the digital world, many of which were new to us.
Thankfully, at the beginning of the pandemic, DMC, the City of Rochester, and Rochester Downtown Alliance co-sponsored a grant process that we were able to take advantage of.  It allowed us to partner with another Rochester firm, Tulip Tree Studios, and have them teach us about all the digital opportunities that were new to us and to work with us through preparing, monitoring, and retargeting our choices.  This allowed us to use part of that COVID-19 downtime to become better educated in digital marketing and to have a resource that we could use as we further expand our digital reach for our website.
Our goal is to increase our web sales so that in the event of another pandemic where our store is closed again we can more easily cover our expenses and weather the storm.  Right now the website has stepped up the pace and we at least had income over the time frame that we were closed.
DMC: As you navigate uncertainty, what inspires you?
Hanson: Louise and I have both always been guided by our belief that it is better to take a breath, analyze the situation, formulate a plan and act on it.  If everyone else is pulling back it is easier to take up ground that they have vacated.  That, and the old adage: slow and steady wins the race.  Life will always change; it is how you react to it that will prove what you are made of.  We have never backed down from a challenge and never sat back and just complained about what was happening to us.  We can shape our own destiny by working hard and not being afraid to take on the challenge and to adapt.
The Nordic Shop is the recipient of a Keep It Local, COVID-19 Innovators Grant.
Carol Bitton, Owner
DMC: What challenges are you facing during the COVID-19 pandemic?
Bitton: Counterpoint in the Galleria reopened knowing life would be different.  Teaching staff new ways of cleaning, dealing with clothing, and high touch areas all took time and patience to reteach.
We now have a procedure we all feel comfortable with and we are in the same rhythm. Now it's down to helping customers feel safe coming in.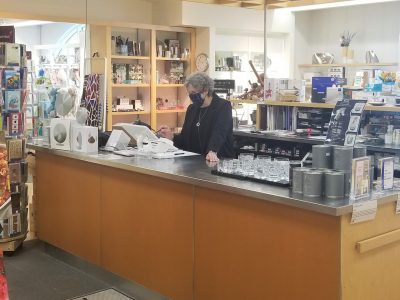 DMC: How is your business responding to those challenges and innovating?
Bitton: All staff in Counterpoint are very observant and careful every step of the way.  We greet every customer with smiling eyes (since we all wear masks).  We ask them to sanitize hands and wear a mask (offering a free one to those who do not come in with one).  We kind of make a joke about coming in and "passing the test"—now they can touch and be free to shop here without any worries.  Most customers laugh and comment "thank you!"
We also had to update our website. It is coming soon, and we are thankful for the work of White Space to make the leap into that world of online selling for Counterpoint.  After 26 years, it's about time!
DMC: As you navigate uncertainty, what inspires you?
Bitton: Being here in a beautiful environment, helping customers that come in (a bit cautious) and after a few minutes we get to know their stories.  We love that our customers appreciate our requiring of masks and our cleaning standards and verbalize everyday how much they appreciate us doing this because they see other shops not requiring anything.  This inspires all of us to keep going.
Counterpoint is the recipient of a Keep It Local, COVID-19 Innovators Grant.